They call it monster and we call it the Zebronics SPK-Zeb-100 Bluetooth Trolley Party Speaker. This DJ party speaker for outdoor is very unique and a must-buy product for outdoor party moment. If you are also looking forward to buying this one, consider checking our honest review and option on this Zebronics SPK-Zeb-100.
If you love and to travel and do a party with friends you will need some of the best Zebronics DJ Speakers. And if you are looking for trolley speakers that you can easily carry anywhere this article is best for you. Zebronics SPK-ZEB-100 Bluetooth Trolley Party Speaker perfectly designed speaker has too good sound quality. You can use this moving monster anywhere you want as this speaker contains wheels on the bottom and has a retractable handle on the top.
You can buy this speaker from Amazon or Flipkart which is very affordable.
More from Zebronics:
Top 10 Zebronics Bluetooth Speakers Review
Top Zebronics Computer Speakers with Bluetooth
Zebronics SPK-ZEB-100 Bluetooth Trolley Party Speaker Review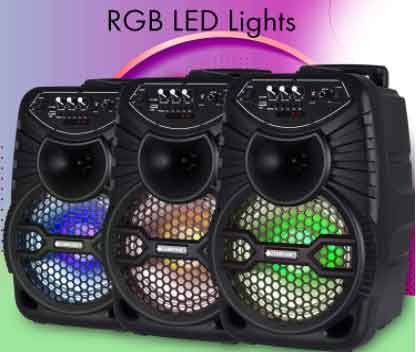 Zebronics SPK-ZEB-100 Bluetooth Trolley Party Speaker may look large and bulky but it has very little weight as you can drag it to any place and can connect them and play music. The speaker contains a good sound quality system. You can host your party with the wireless mic on karaoke which will come inside the box only.
The speaker has an LED display and you can control the LED with the LED light control switch. The speaker contains multiple connectivity options, you can connect them with Bluetooth, AUX, USB, Micro SD. You will also find a built-in FM radio. The speaker also comes with and remote control system, you can use this remote from a distance and operate them for changing volume, songs, or switching off and on the speaker.
The speaker is very creative and attractive to look at. Many customers buy them because of the creativity as it looks good in the home. You will also find some control options on the speaker box such as speaker switch on/off buttons, equalizer, USB port, Lightswitch, volume buttons, Aux input, Mic input, and many other options too.
Price Details:
Zebronics SPK-ZEB 100 Bluetooth Trolley speaker is a mid-range DJ Speaker that you can count on. The price details vary from one to another shop or online store.
Zebronics SPK-ZEB-100 Price Details:
Amazon Price- 4,700 rupees.
Zebronics Price- 6,500 rupees.
Flipkart price: 4,990 rupees.
You can also buy the Zeb-100 moving monster speaker from other sources like Zebs.com, Abhistores.com, etc.
The price of this speaker is 4,687 which is very affordable if you want a party speaker. Any customer who is a frequent party traveler must have this. It is totally worth buying it. You can buy it on Amazon.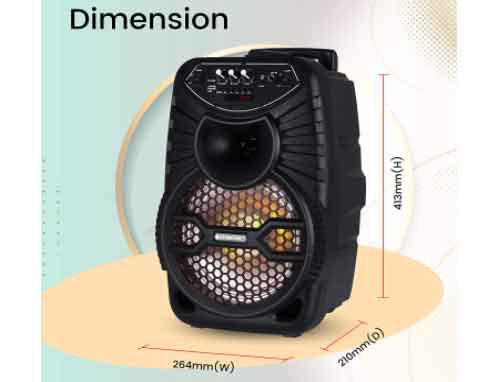 Zebronics SPK-ZEB-100 Features:
Speaker comes with remote control and wireless mic.
You can customize the LED lights.
Multiple connections.
Attractive and creative design.
Good sound quality for the party.
Very flexible, you can carry or drag it any place you like.
You will find the volume and other control options on the speaker.
Zebronics SPK-ZEB-100 Specifications
Frequency response: 80Hz-18kHz.
The maximum support USB memory size is 32GB.
Charging time: 3hr.
Playback time: 5.8hr.
Weight: 4Kg 500g.
Built-in rechargeable battery.
Line Input: 3.5mm.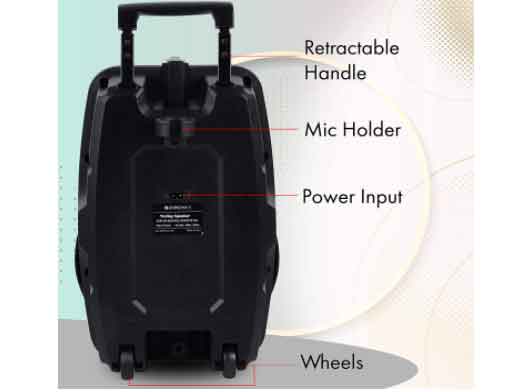 ZEB-100 Party Speaker Pros
Attractive in design
Good sound quality
You can carry it anywhere, as you can drag it.
Good value for money.
Sufficient output for parties and movies.
Good battery backup.
ZEB-100 Party Speaker Cons
Not good bass quality.
Not for open and large places.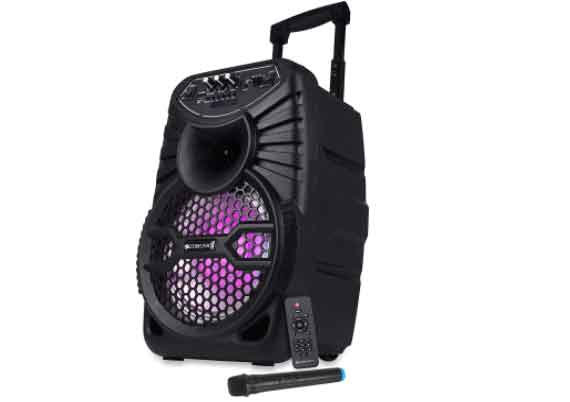 Reasons to Buy:
After all, this moving DJ speaker is not for single-use or rough use either. If you are looking for a budget speaker that doesn't only look very cool but also gives you the proud feeling of owning a large moving monster speaker.
It can really give the satisfaction of sound in any small to medium party. Works best at home. You can also buy this one for ballroom use.
Reason to Avoid:
There are a few reasons to avoid this Zebronics SPK-ZEB-100 moving DJ speaker. It has an average quality build. As it is cheaper than the other product such as JBL Speakers or Boat. Because of that, the quality of the sound and bass is not the best too. If you don't want any exception with your DJ Speakers then you should go with the Best DJ Speakers to buy in 2021.
Summary:
I have tried to list all features and specifications of the Zebronics SPK-ZEB-100 Bluetooth Trolley Party Speaker. Though it looks large but has a good sound quality. If you are using this speaker for a small-medium place it is totally worth it.
Please Share and Support SpeakersTrend.
Also Read:
Best Zebronics headphones Buy Online in India