Enjoying music with normal headphones is nothing compared to the best music experiences. Headphone needs to be stylish so that other people can notice and say that this is an amazing headphone. Of course, sound quality and other features matter but looking amazing from the outside also matters the same. We will help you here to find the Best Stylish Looking headphones under 1000 Rs.
Here you will find some wired and wireless earphone but we will focus on the stylish and sound quality of headphone so that you don't even feel that you are buying this product just for style, volume and bass is also important.
Just like that, We have added the best product you can find on Amazon. Along with the customer reviews and our commend on the product, we encourage you to buy the best stylish-looking headphones from this list.
So let's get started…
Also Read: Best Zebronics Home Theatre under 5000
Amazon Echo Smart Speaker under 2000
Best Stylish Looking Headphones
Yes, sometimes style does matter too. Whether you are a teen or adult, carrying boring headphones with you is not so cool. Almost every headphone gives you good-average sound quality. So, if you are thinking of getting stylish headphones then just hold on tight.
Every headphone here will have some extra feature which you will know in description and basic feature are already known by others, so we are focusing more on stylish here. So that you can buy stylish headphone which is budget-friendly also.
Top 10 Stylish Headphones Under 1000–
Best Tower Speakers under 10,000
1. Azotiquee Multi Fur Over-Ear Wired Headphones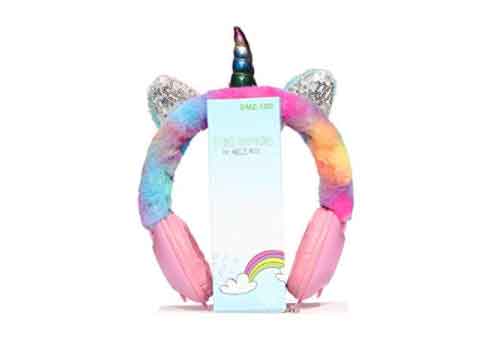 Most people love winters and wearing a dress at that time is our favorite part, they are soft, silk and is very comfortable. Just like that, we have this fur headphone, this is very unique in style and girls will love this headphone.
There are many beanies that have 2 cat ears on top just like that we have this stylish headphone which has two ears on top and in the middle, it has a horn like a unicorn.
Along with soft beautiful sound quality, these pink princess furry stylish headphones under 1000 rupees are very good to buy for you or your kids.
Looks
Good quality wired headphones
You will see many colors in these headphones.
This has a different and unique design.
It is very fury and is very comfortable to ears and kids will surely like this.
Good Sound Quality.
2. Zebronics Zeb-Bang Foldable Wireless BT Headphone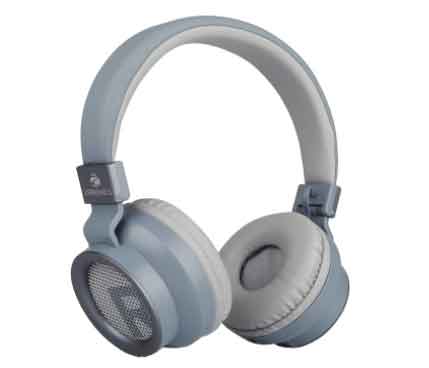 This headphone comes in 5 color options which have 2 different color combinations. Outside the headphone, you will see a speaker grill that has R and L written which means Right and Left for ears.
If we talk about its sound, it has great bass, and a clear sound too.
Also, the best one is this headphones cool design and classic color. I am not sure that you will find such a headphone design anywhere else.
It is Bluetooth headphone, with voice assistant, 40mm driver for wired playback and control button for play pause and next.
Best Stylish Headphones under 1000 rupees only.
Looks
The color combination looks very amazing.
The color of these headphones is very pleasing to the eyes and looks very attractive.
It has a very cool design and you can fold it and keep it in your bag.
3. Leaf Bass Stylish looking Headphones under 1000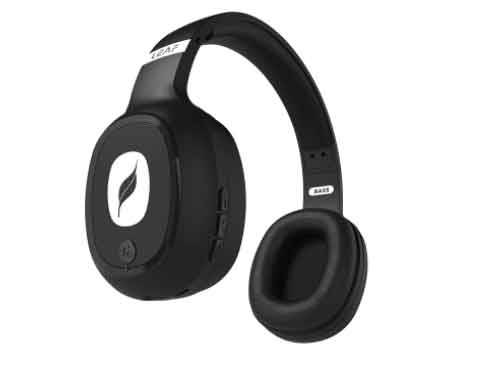 This is a wireless headphone that has a very glossy look. It has an in-built mic feature that helps to talk with others and has good battery life.
It has a deep bass system and in-built multiple functions which helps to power on and off the headphone and you can even change songs and increase or decrease the volume of the song.
Apart from that, its mate black look and professional design are the things for teens and adults. Also with the big ear cups, you get the best noise-canceling feature with this stylish headphone under 1000.
Looks
This headphone has a super soft cushion when makes it even more comfortable when you wear it.
It has a glossy design and comes in carbon black color.
Headphone exposes the brand logo very clearly here, on both sides you can see the leaf logo and brand name properly.
It has both wired and wireless design
4. Cosmic Byte GS410 Headphones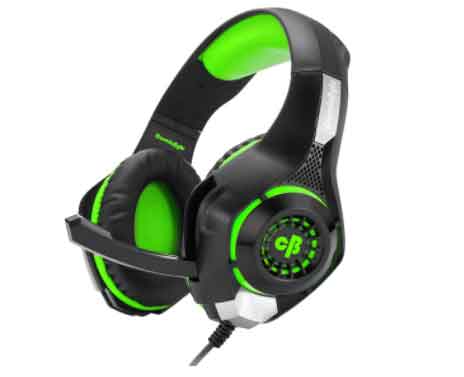 This is a gaming headphone so you can predict how it will look, a full gaming mode headphone. This is a wired headphone and looks totally like a gaming beast.
It comes in a much different combination of colors. But this green and the black color combination looks amazing. This is one comfortable pair of headphones on the list.
Under only 999 rupees on amazon, this wired headphone with mic is the best stylish headphones for gaming.
Cosmic Byte GS410 Headphone has one 40mm driver which means it can also be used on mobile phones. Also, its soft earcups will not hurt your ears for a long time.
Looks
Combination of green and black color make this headphone look more amazing and appealing to gaming users.
It is made of a full soft cushion and head pad which makes it very comfortable for the user.
The brand logo has been designed very well, you can see something like a wheel in the headphone and inside written CB which looks amazing.
5. Rockpapa Grade Stylish Headphones under 1000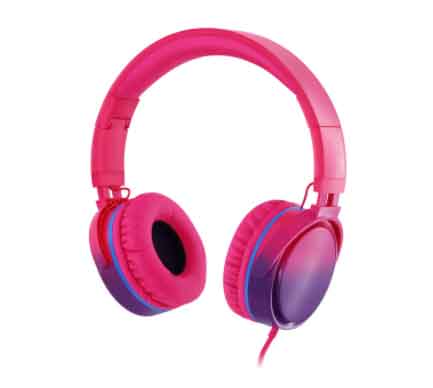 After so much gaming and boy headphones, now let us focus on girl headphones. This headphone also has a color combination but color has been put in a very different and unique way.
As you can see, this simple-looking headphone is actually very special for its color combination. With the variants of color, this can go with you anywhere you want to go.
The sound quality is pretty good of these headphones. However, the bass is pretty average. Under 1000 rupees, price range, these stylish-looking headphones are best to buy for kids and teenagers.
Looks
This headphone comes in gradient color which looks appealing to customer's eyes.
It has an attractive design that's why it has a rating of 4.3 stars
The earpiece is very soft which makes it comfortable to wear.
Wire has the same color combination which makes it look very cool and cute to girls.
6. Macmerise Wireless Bluetooth Headphones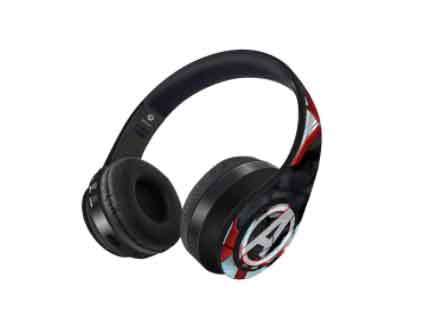 There are many people who are reading this are Avengers fans. So for those, who loves Avenger movie, we have this headphone which has an avenger look. From side to top you will see an avenger look. It is a wireless earphone so you can connect it with your phone, laptop, you can also listen to the radio or add a memory card.
The build quality of these headphones is pretty average but the features are very catchy. This Bluetooth headphone also has a radio in it. Apart from that, you will get control buttons, built-in memory card for instant play.
Also, this headphone can give you up to 10 hours of battery backup, hands-free calling with a good quality mic. One of the best stylish-looking headphones under 1000 comes with this many features except one which is waterproofing.
Looks
It gives a proper avenger look, Avenger Fan must buy this!
It has a soft cushion which makes people very comfortable when they wear it.
You will get a plain black wire which has a good color combination with headphones.
7. iBall Kids Diva Kids Safe Wired Headphone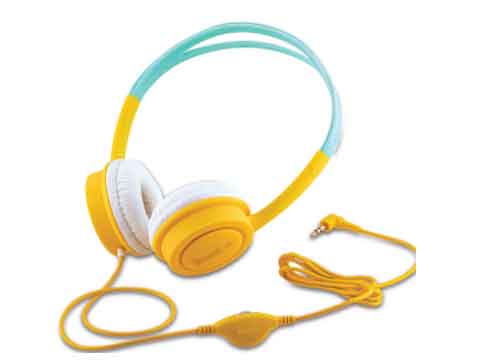 Specially made for kids, this earphone has a unique design and color. The color combination of these headphones is amazing and attractive. You will never see this kind of color easily on market.
With the blue-white yellow, this headphone is not only color-rich but also very safe. If you are planning to give it to any kid then you should leave all your worries because this iBall Kids Diva headphone has a safe frequency for kids.
Apart from that, it is a simple and cheap headphone that comes under only 300 rupees. You can also increase or decrease volume with the wheel on its wire.
Looks
Color combination plays a different role here, it looks very amazing and attractive.
On the head, you can see a single band separating in two and having different colors and then attaching to one different color. The theme of these headphones is very unique.
It comes in four different color combinations all look cute and amazing.
It is a wired headphone so the volume button is like scrolling, you have to scroll up to increase volume and scroll down to decrease it.
8. MINISO Foldable Head Phone ABS Material for Long Wearing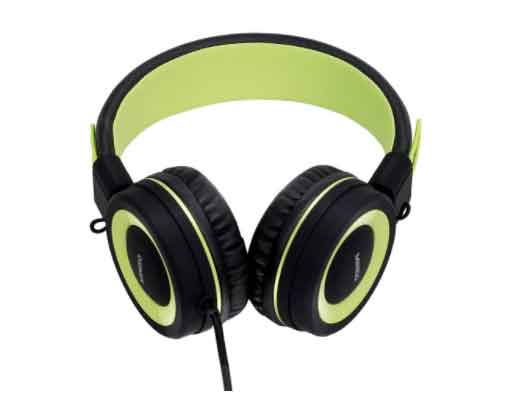 This is a wired headphone that comes in one color option only. It has a color combination of Green and Black and the wire is totally black in color. All total looks very cool.
You can see its glowing color is making the look of this headphone is catchy. The sound quality is also pretty impressive. According to customer reviews of this headphone, it is supposed to be the most comfortable wired headphones under this price range.
Best Stylish looking headphones under 1000 rupees in India.
Looks
It has a unique color combination which makes headphone looks cool.
The brand name written on the headphone is very exposing, you can see on both the sides
MINISO is written in bold and blunt which is very amazing.
9. Zebronics Zeb-Thunder Stylish Looking Headphones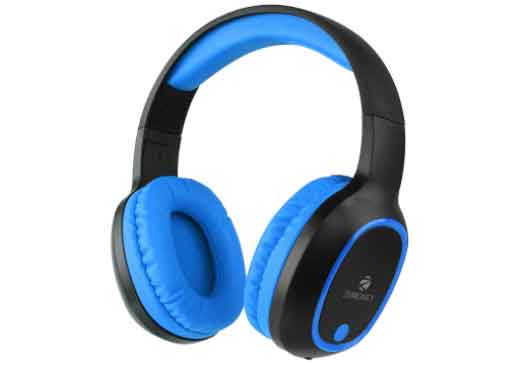 This is a wireless Bluetooth headphone that comes in four different colors, Black, Brown, Blue, and Red. Keeping design aside it gives 9 hours of Playback Time and has superior sound quality.
Zebronics Zeb-Thunder Wireless BT Headphone is an all-rounder headphone that not only gives you a cool outdoor look but also its impressive sound quality is worth the money.
Cute looking this Bluetooth headphone also comes with an AUX cable, button control, and inbuilt MIC for handsfree calling on the way.
Looks
It comes in two color combinations blue and black and has a glossy look.
Here also brand name is boldly exposed which looks very cool and behind that, you can see a button where you can receive a call
The in-built multiple functions come in blue color which looks very attractive.
10. Cosmic Byte GS430 Gaming Headphones under 1000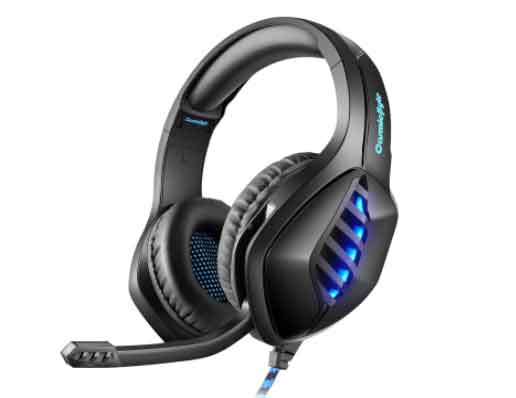 This is one Best Stylish Looking headphones you will get on this list. It will cost you just 999 rs and you will get many features as well.
It comes in 6 different colors and all look very amazing if you see this in someone's head. Cosmic Bytes these stylish-looking headphones under 100 also comes with LED light and impressive 3D sound quality.
If you are here for gaming headphones then this one is going to be the best for you under this price range.
Looks
Those who love gaming will surely like these gaming headphones. LED indicator here looks very appealing to the viewer's eyes.
It is very comfortable when you wear it as it has a soft cushion earpiece
You will find LED lights under the headphone which looks attractive and make people buy this product
Last Words: All these products which we have mentioned in the above list all are the Best Stylish Looking Headphone under 1000. We have tried to focus basically on the best stylish look headphone and did not describe too much about the features here, if you want to get knowledge about other headphones with features and specifications let us know in the comment section.
Style is what you have to choose, features and specifications are already given on the selling website.
I hope this post will help you to choose the best style for you and your headphones. Please share and support SpeakersTrend.
 More: