Bluetooth speakers are now a primary part of our life, because of their small size design, great battery backup, and portability it gives all the delight music lover needs. Now the problem arises when you have to choose between two leading brands Boat and JBL both offers a great range of wireless speakers from the last decades. So, which one is really better? Let's make a detailed comparison on boAt Rugby vs JBL Flip 2.
In this guide, we will compare Boat rugby and JBL Flip 2 wireless speakers according to their design sound quality battery backup, and at the last, we will give you our honest review about which is best for you.
More:
Best Headphones under 25000 rupees
iBall Musi Twins review: Split-into-two Portable Speaker
Boat Rugby: An overview
Boat rugby is the best seller of Bluetooth spears because of its lightweight and compact design. The quality of the audio is better than various other Bluetooth speakers in the same price range. The passive radiator guarantees an outstanding bass experience.
Mid-range vocals are significantly clear and accurate. The distortion of sound at higher volumes is very less. The Bluetooth, as well as AUX connectivity, make it feasible to connect this Boat rugby speaker with multiple devices like earphones, mp3 players, tablets, smartphones, etc.
With a battery capacity of 1800 mAh, the Boat rugby portable wireless audio speaker can conveniently play nonstop for up to 8 hrs. It can easily be charged via the mini USB cable given in the box.
Clarity and comfort are its biggest motive and also they take care of it undoubtedly. The inbuilt microphone allows you to attend to your phone calls quite conveniently. The calling experience is great by the clear, detailed, and noise-free sound.
Specification
Battery life: 8 hrs | Charging time: 2 hrs
Wireless range: 10 m
IPX 5 splashproof- Now you can enjoy music even in the pool
Excellent portability Take your speaker wherever you want with its lightweight design Included – Boat Rugby Speaker, Charging Cable, Warranty Card, User Manual, Audio Cable,
Frequency response – 60Hz – 18000Hz
Impedance – 2 Ohms
Battery type – Rechargeable Lithium-ion
Battery capacity – 1800 mAh
Compatible devices – Computer, Mobile, Tablet
Overall Weight – 490 grams
JBL Flip 2: An overview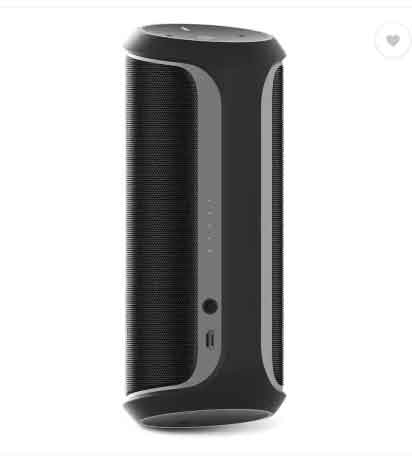 The JBL Flip 2 is one of the most cost-effective and top-notch Bluetooth audio speakers. The pairing with Mobile phones and also other Bluetooth devices is relatively easier as it connects immediately after you switch the Bluetooth buttons on.
The audio speaker makes use of a typical Micro-USB cable as well as it can be plugged into a Desktop system. It has a USB port or power adapter for fast charging. The sound is loud and crystal clear.
The JBL Flip 2 speaker has the ability to give power output up to 10W for a distortion-free audio experience. The radiator in the JBL flip 2 makes gives a Great bass experience from any type of song.
Specification
Frequency response – 100 – 20000 Hz
Impedance – 4 Ohms
Included- JBL Flip 2 Portable Bluetooth Speaker, Quick Start Guide, Micro USB Cable
Battery – Rechargeable Lithium-ion Polymer, Use Time 5 hr
Battery capacity – 2000 mAh
Connector Type – Aux-in, USB Connector
Noise Cancellation Technology
Compatible devices – Computer, Mobile, Tablet
Weight – 510 grams
Boat Rugby vs JBL Flip 2 Detailed Comparisons

Design:
The body is made from a metal grill to both the front and back sides. However, the joints are constructed from plastic. The rubberized strap on the speakers exists to provide a superb hold. On one side of the speaker, you have a USB type c charging port, the auxiliary port, and also the micro SD card port. Also on the top side, you have the multi-feature control switch.
The JBL Flip 2 has a cylindrical design and can be oriented horizontally and vertically. It is constructed from plastic but has great build quality at this price point. Micro USB charging port on the one side of a speaker with near field communication for easy Bluetooth pairing.
Waterproof:
The best thing about Boat rugby is its IPX5 ratings which protect the speakers from water splash as well as dirt.
The JBL Flip 2 does not have water-resistant certification so it is not recommended to use its pools. but it can perfectly work on other weather conditions.
Sound Quality:
the Boat Rugby is sharp as well as the output is quite loud, thanks to its 10-watt power output. The vocals are distinct, sharp, brilliant, and upfront. Nevertheless, the vocals might have utilized a little bit more deepness to keep the natural voice. The two speaker drivers on the right side, deliver the maximum volume and the entire sound range.
JBL Flip 2 has impressive audio quality it is a little louder than other mid-range speakers. Also, it can minimize unwanted distortion for the crystal clear audio quality and excellent vocals. Delivers optimum sound in mids and highs with clean bass.
Compatibility:
It's compatible with all devices for unlimited enjoyment in nonstop songs. It has a version of Bluetooth 5.0. Along with Bluetooth, the speaker can be connected by an Auxiliary cable. Additionally, it can be changed to TF or SD card mode also. For this, you need to put the memory or SD card in the port for playback.
Just like Boat rugby, the JBL Flip 2 is compatible with all Bluetooth-enabled devices such as desktops, tablets, and smartphones. Bluetooth connectivity range is up to 40 feet. Also, it has a dedicated auxiliary cable port for wired connectivity.
Battery Life:
The boat rugby has an 1800 mah battery that can deliver non-stop music for up to 8 hours with 4 hours of charge.
The JBL Flip 2 has a 2000 mah battery but it can last up to 5 hours which is its downside. So you have to charge it fully before use.
Boat rugby vs JBL flip 2 Final verdict
After looking at the above aspects the final choice depends upon the need of the user. If you want better battery life and want to use it while traveling in all the weather conditions then Boat rugby is the best choice for you because of its 8-hour long battery life and IPX5 water-resistant certification however Jbl flip 2 can last only up to 5 hours which is on the lower side.
But if you want loud, crisp, and excellent treble in all types of music then you should go for JBL flip 2 it delivers outstanding audio quality without any external distortions. Also, it has very powerful bass on both mids and highs.
I hope with this article you have a better understanding and now you will be able to take the appropriate decision between these two Boat rugby and JBL flip 2 according to your need. If you find any I have missed out do let me know in the comment section and find it helpful do share with your friends and family.
Share and Support SpeakersTrend.
More:
Zebronics Bluetooth Speakers under 2000