Want an Amazon Echo? Here is a list of the best Amazon Echo Smart Speaker in India. Smart speakers with Alexa Built-in Under 2000 to 20,000 Price range.
Amazon Echo is quite good for many reasons. These smart devices are very capable of making your life easy and relaxing. When it comes to the Alexa Echo products then it is very different from the other smart speakers. These speakers are very useful in every way of life.
However, these Amazon Echo speakers can be found in many variants. Some of them are small and with limited features while some others are very high tech and has unlimited capability like controlling the whole house and also give you the experience of a power booster home speaker.
Also Read:
Smart Speaker with Alexa Built-in Feature
10 Best Wireless Speakers for Outdoor Parties
Yes, all these can be found in only one device but with just a little higher price. So today I will be listing some of the best Amazon Echo products under the 2,000 rupees to 20,000 rupees price range. Chose the best deal for yourself.
What is Amazon Echo
Amazon Echo Smart speakers are also known as Alexa or Amazon Alexa. Made, developed, and introduced by Amazon itself, this device is widely popular and known by many names such as Amazon Echo, Echo, or Alexa. The main product is basically a smart speaker that has the main feature of operating your voice command.
Meaning, these Amazon smart speaker will respond and take action according to the command given by you. You will just have to say anything after the word Alexa. Although, you can change this main word with Amazon, Echo, or Computer.
With very much capability, you can use it as your house automation device, turn off/on your smart lights, set alarm, order food from online, answer calls, play music, and much more. But before you fully want to use it, you have to read the manual guide book for the best fun.
Top Amazon Echo Smart Speakers in India
1. Amazon Echo Dot 2nd Gen under 2,000 rupees
We all know about the 1st generation Echo that was not that popular but this one called Echo Dot 2 is small but very efficient as an Amazon Echo smart speaker.
Control your house, manage light, use it in the kitchen, ask for the recipe, play songs, manage a to-do list, etc. All of these comes with this compact smart speaker with Alexa inside. This device also has Bluetooth to connect with your cell phone.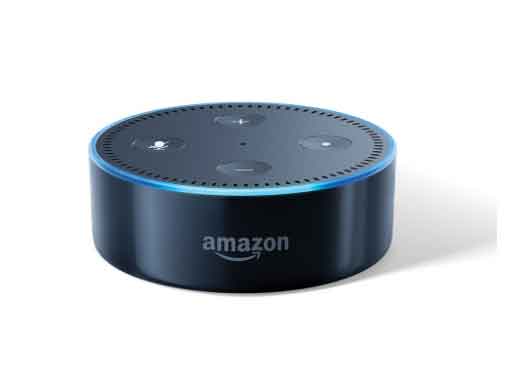 Pros:
Good Portability.
7 Microphone to listen to your voice from any corner of the room.
Crystal Clear Handfree Call.
Bluetooth Features.
3.5 mm Jack.
Smart Echo Alexa.
Good Music Sound Quality. Use as song player, alarm, or guiding voice.
Auto Update Alexa App feature.
Wifi Connect.
Compatible with Syska and Philips smart device.
Cons:
Very Light Weight.
Sound Volume is low.
Not very durable.
Average Battery Quality.
Built could be more stylish.
Only one color available for this product.
No Warranty period included.
Conclusion: Alexa Echo Dot 2 is an average quality product according to its price range. This Amazon Echo smart speaker can just do the thing for you. But if you are here for a better smart speaker that works as an amazing speaker too then you should go and look below.
Check Amazon Echo Dot 2nd Gen Price on Amazon
2.Echo Dot 3rd Generation under 4000
The true third-generation Echo device under a compact design is here. Amazon Echo 3rd Generation with better and improve Alexa built-in is just for a better version of fun.
Amazon Echo's product is a very much all-rounder thing. Equipped with the Better version of Alexa, this smart speaker also has a pretty impressive sound quality and look. Use it as a home controller, fun, or music player, it can do all with satisfaction.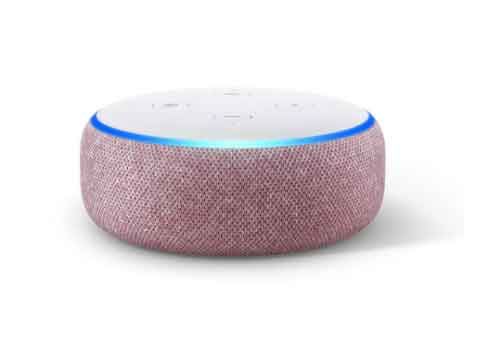 Pros:
Beautiful Design.
Good Speaker Quality with 360 sound.
Most Popular Amazon Echo product.
Just ask for anything that you search on google normally with your Smartphone.
Play Songs, ask for kid stories, ask for the to-do list, set alarm all up to you, and your mind.
3rd Generation Alexa is also compatible with both Hindi and English languages.
Add your account and stream premium songs from premium apps.
Music lovers can access all language music.
4 high-quality microphones can hear you from every corner of the room.
Impressive sound quality with sweet bass.
Cons:
Not the best: Can find a better one below.
Not any long warranty.
Alexa app needed to connect to the wifi.
Sound is not the loudest.
The extra plug comes for AC.
No Waterproof feature.
Not any bag or carrying included.
Only one year echo dot warranty by the seller.
Conclusion: Pretty impressive product I would say under this price range. A lot of people are going crazy for this one. With the good Price range with many facilities, this Super Amazon echo smart speaker is just the thing that a person will need for his/her personal use.
Check Echo Dot 3rd Generation Latest Price.
3. Echo Alexa Smart Speaker with Built-in Battery under 4000
Worried about electricity? Alexa got you covered in these two. This Amazon Alexa is built with a rechargeable battery now loves your problem to connect your device with wire all the time.
Comparing to the others, Amazon Echo Alexa Smart Speaker with built in battery under 4000 is a medium quality speaker. Also, this Alexa device is quite big than the other two and because of that, it comes with a louder sound and better bass.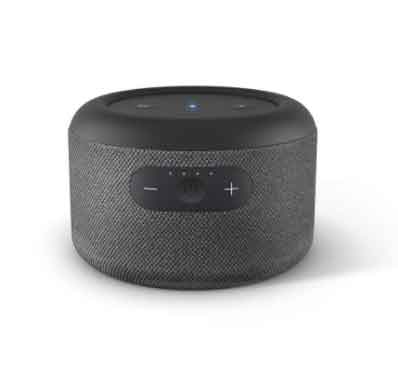 Pros:
Inbuilt Long Life 4800mah Battery. (More than 10 hours music play)
Portable: Take and use anywhere without connecting the Wire.
Voice Command Control: Ask Anything to Alexa, order food, set alarm, ask for music, or check to-do list.
Compatible with both the English and Hindi.
Improved and better: With thousands of Alexa skills that you require in daily life.
Very good privacy too.
One Tap Mic disable button.
High-Quality Multiple MIC to hear your voice commands clearly.
Bluetooth, Wifi, and Wired.
1-year premium warranty.
Cons:
Not better than the other two mentioned below.
The battery gets weak after someday.
The design could be more premium.
No carrying bag.
No Premium material made.
Do not have any 360 sound.
No Display.
Conclusion: Yes, it looks like an iPod but the smartest one. This amazon echo product is built for your single-use or maybe double.
You can have fun, listen to music, answer important calls, study with it, ask questions, ask for kid stories, order food, do online shopping from amazon or make some great plans and ask your Alexa to remind you at the right time. It's all up to you.
Check Echo Alexa Smart Speaker Price on Amazon
4. Alexa Echo Dot 3rd Generation with LED Display under 5000
Ok, now let's talk about a smarter version of Alexa. This smart Alexa speaker is just another version of the most discussed Echo version which is called Alexa Echo Dot 3rd Gen with LED Clock that comes under 5000 in India.
Yes, this Echo 3rd generation device has a beautiful look inbuilt a sweet looking LED display that shows you the time. With all the smarter things of Alexa, this smart speaker is a smarter, prettier, and overall improved version of Amazon Alexa Speaker.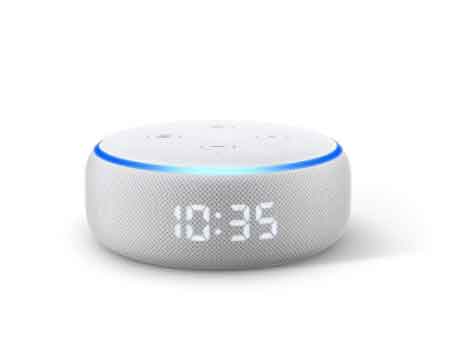 Pros:
Beautiful Look.
360 Sound.
7 Microphone for better voice catching.
Beautiful sound quality.
3 mode control(tap, app, and Alexa).
Perfect table clock and alarm clock.
Very good music player.
3rd Gen Alexa for your every needs that you want to be fulfilled without doing much.
Better and improved material and long-lasting.
Bluetooth.
Cons:
No built-in battery.
Wired and can't be used without connecting it with electricity.
Available in only one color. (White).
The price is higher than the last one with the battery.
The customer review is not that good.
Alexa is a little laggy in some of the devices.
No Bag included.
No Premium service.
Normal 1-year warranty.
Amazon Echo Features.
Conclusion: A very pretty looking Echo product is just for what you need with the higher price and premium quality. We all know that the price is not for nothing. The higher price you pay the more premium quality you get. With all the fun of Alexa and some other features like beautiful sound, and a cool clock is quite impressive.
5. Long Smart Speaker-Amazon Echo with Alexa under 3000
This amazon Echo smart speaker with Alexa is all the same but for the hard duty. This speaker is bigger and better of course. made with premium quality materials, this speaker has every you need for the whole house. Use it as a house entertainer or study with it or make your task done by just asking it Alexa.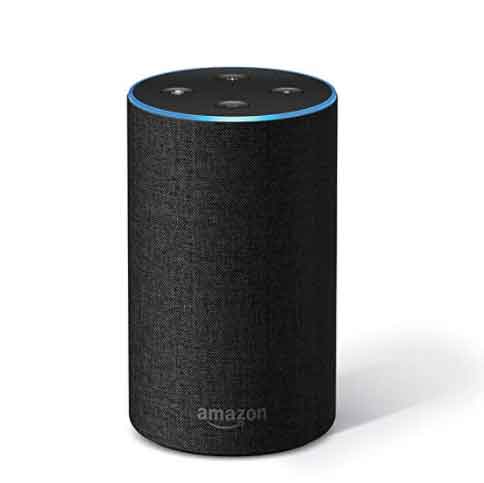 Pros:
Smarter Alexa.
Long-Lasting and Durable.
Good Battery for no electricity use.
Multiple Microphones.
Powered by Dolby.
Better Sound experience with impressive bass.
All the features of Alexa included even some more.
Better engagement for voice commands.
3 control mode(Alexa app, Bluetooth, and tap buttons).
1 tap mic off for security.
Cons:
Not Waterproof.
No carrying bag.
The nest one is better compared to this one's price.
Some bad customer reviews.
Average battery.
Built could be better.
No LED display or light.
Not fully Wireless. Power Adapter needed.
Normal one year warranty.
Conclusion: This product is overall good for the whole house. It can do as all the Alexa product can do. However, its price is very low according to its tech and feature. Alexa Echo smart speakers are better in quality and also higher in price. If you are ready to consider some minor premium things then you will be happy with its price.
Check Amazon Echo Price on Amazon
6. Amazon Echo 3rd Gen with premium Sound under 10,000
This 3rd Gen Echo smart speaker has the best feature of Dolby sound. With powerful bass and crystal clear sound, this speaker comes with all the other advanced and new features of Amazon Echo. Use it as a bass booster machine or a smart speaker to control your smart house.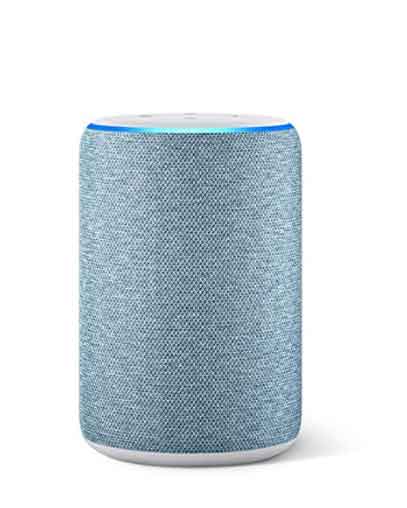 Pros:
Best Voice Control for Smart Homes.
2 different language support. (Hindi and English).
Premium Dolby sound with powerful bass.
Long-Lasting and premium materials.
Premium and Beautiful look.
4 different colors available.
Compatible with Smart Bulb, and other smart home accessories.
3 Control mode. (Voice, Tap and Mobile app).
Pretty big and for home professionals.
Smarter Alexa Inside with huge knowledge.
Cons:
No battery inside.
No Carry Bag.
only one year warranty.
Not for outdoors.
Conclusion: A better and premium version of Amazon Echo for house use only. With the pretty impressive Dolby sound quality and eye-catching professional look, this Alexa smart speaker can full fill your every need.
Also, making sure that this one comes in 10,000 rupees. So, we can be sure that the quality and service, both will be great.
Check Amazon Echo 3rd Gen Price, on Amazon
7. Echo Studio- The Best Alexa Smart Speaker under 22,000
Love Music? Listening to music by just asking Alexa can never be better. Equipped with 4 speakers and 1 big power bass booster, this Amazon echo smart speaker can shake your house. And also, the Alexa inside it is the smartest one of all.
Do anything or ask anything to Alexa. It may also do the magic for you. Capable of highly and effective voice command processing because of its multiple microphones create beams along with the corners of the house. Compatible with all the smart devices. Just connect it with the app.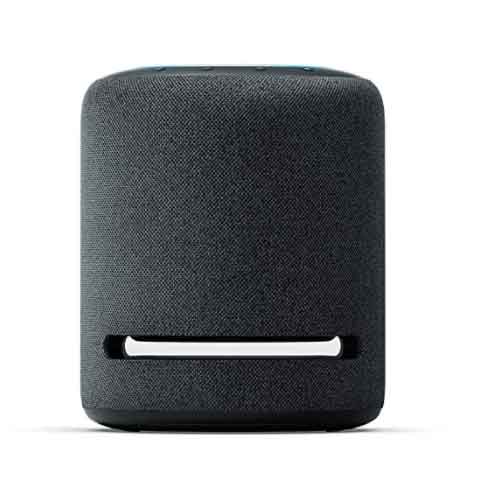 Pros:
Super Sound Quality with 5 speakers in total.
Amazing Bass to rock your home.
Best Alexa built-in.
Smart speaker to listen to and speak with.
Great quality handsfree call.
All the settings are customizable with the app or the physical buttons.
Very Long Lasting and Premium material made.
Beautiful look for your home.
Big and noticeable for your big rooms.
Auto tuning feature after adapting the room's acoustic sound data.
Cons:
It only runs with an AC adaptor.
Heavy.
Not portable.
No battery.
High Price.
Only one year warranty.
Conclusion: Always Crazy about the parties? Stay alone? Love loud and bass full music, maybe you just want to show off the best of you. Do it with Alexa Echo Studio. This smart speaker is not just a speaker. It can make some real difference in your life.
Check Echo Studio Price on Amazon
Top Amazon Echo Features:
play music
Alexa, set an alarm for every weekday at 7 AM.
Alexa, tell me a joke.
Alexa, what's up?
Alexa, give me a cricket score.
Music and entertainment.
Alexa, play Bollywood songs.
Alexa, play Tamil songs by A R Rahman.
Alexa, play rock songs.
Alexa, play Radio Mirchi.
Alexa, play Sufi music from Saavn.
Manage your day
Alexa, what's the weather in Bengaluru?
Alexa, what does my day look like?
Alexa, what are my reminders?
Around the house
Alexa, turn off the lights.
Alexa, order Haldi powder.
Alexa, set a timer for 10 minutes.
Alexa, add birthday party planning to my to-do list.
Alexa, add milk to my shopping list.
News and information
Alexa, what's trending?
Alexa, what's the news?
Alexa, how many teaspoons in a tablespoon?
Alexa, when is India's next cricket match?
Fun stuff
Alexa, tell me a Rajnikanth joke.
Alexa, flip a coin.
Alexa, sing a nursery rhyme.
Alexa, tell me a Panchatantra story.
Do more with Skills
Alexa, ask Ola to book a cab.
Alexa, ask Tarla Dalal for breakfast recipes.
Conclusion: So, There are all the best performed Amazon Echo Products that are doing well in the online market until now. These 6 best Echo Smart Speakers will worth you the cost. Alexa Speakers can be used for many reasons.
As most of them I have mentioned already but some are are still a mystery. Know the Full Guide and Learn to Use all the features of Alexa Here. Good Luck With your Alexa!
Also Read: 20 Best Portable Speakers to buy