boAT Rugby vs boAt Stone 600 and which one is better for an individual. To find an answer to this question, we will go through every single minor to major detail of both the speakers today.
We will compare these two speakers and their specifications, sound quality, and all the necessary features and help you buy the perfect Bluetooth speaker.
You should know that both boAt Rugby and boAt stone 600 are Bluetooth featured portable speakers which means both are small and comes in your hand. However, this is one thing you might be looking for, for a day to day use.
More:
10 Best Home Theater under 10000 rupees
Best Floating Bluetooth Speakers for Pool
Monoprice 2 in 1 headset Review
boAt Rugby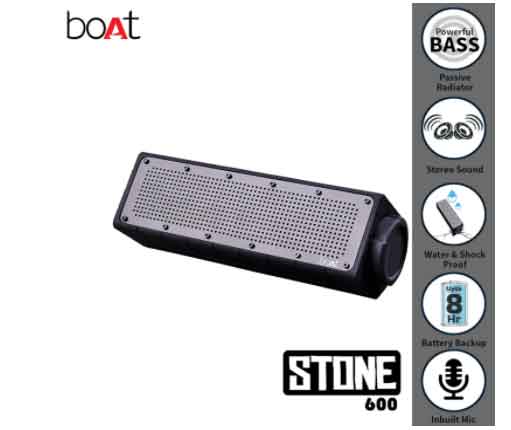 boAt Rugby is a wireless portable speaker which is a popular choice in budget speakers. It has a thumping bass that provides a great music experience.
A very popular budget wireless speaker, boAt Rugby is known for its durability and sound quality. For single-hand rough use, this speaker is perfect.
Specifications:-
Driver Size:- 52 mm
Bluetooth Version:- 5.0
IPX Rating: – No
Playback Time: – 8 hours.
Speaker Type: – Stereo
Microphone:- Yes
boAt Stone 600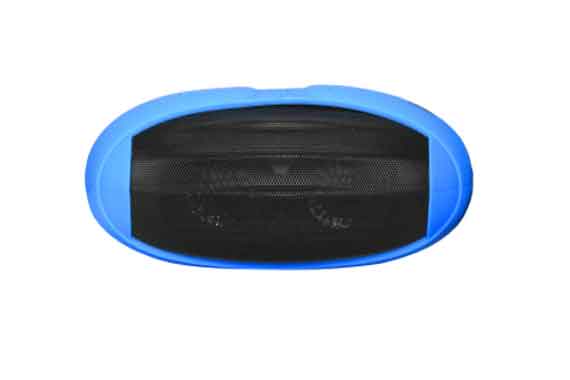 Boat Stone 600 is a wireless Bluetooth speaker which can be easily connected to any electronic device like Smartphone, computer, and tablet. It comes with a powerful battery and its system gives a powerful sound.
With a high-quality material build, this Bluetooth speaker beat boAt Rugby at durability. Its metal build makes sure that you can use your speaker, however you please.
Specifications:-
Bluetooth Version:- 4.0
Playback Time: – 8 hours
Microphone:- Yes
Power output:- 10 W
Comparing: boAt Rugby vs boAt Stone 600
Model Boat: Rugby-Boat Stone 600
Bluetooth Version 5.0-4.0
IPX Rating: No-IPX6 rating
Battery Capacity: 1800 mAh-1500 mAh
Playback Time: 8 hours-8 hours
Charging Time: 4 Hours-5 Hours
Colors Available: Black and Blue Black
Bluetooth Version and Connectivity Range.
There is both Bluetooth as well as Aux Port offered in both the audio speakers as connectivity options.
The Bluetooth version of a boat rugby Bluetooth audio speaker is v5.0, and the connectivity range is up to 10 meters.
While the Bluetooth variation of a boat stone 600 Bluetooth speaker is v4.0, and the connectivity range is up to 10 meters.
Sound Quality
Both the speakers come with 10-watt stereo speakers and with a bass radiator. Hence in the speaker type and sound quality, both the Bluetooth speakers are the same.
The speakers have great bass and sound quality. They are a perfect choice for a small and medium-sized room.
As they have an in-built microphone, the call quality provided by both the speaker is decent, but one can get some background noise while calling.
Water Resistance and Microphone.
When it comes to the IPX rating of both these speakers, Boat Stone 600 comes with an IPX6 rating, which makes it water and sweat resistant, and on the other hand, Boat Rugby doesn't have an IPX rating.
Both the speakers come with an in-built microphone but do not come with virtual assistance.
Playback and Charging Time
The boat stone 600 is powered by a 1500 mAh lithium-ion battery which takes virtually 5 hrs to charge completely and whose maximum playback time depends on 8 hrs.
While the boat rugby Bluetooth audio speaker is powered by an 1800 mAh lithium-ion battery whose optimum playback time is up to 8 hrs and takes nearly 4 hours to charge completely.
Final Verdict: boAt Rugby VS boAt Stone 600
After a detailed comparison between both the speakers, it is very clear that both the speakers have almost the same features and specifications except a few. The connectivity, sound quality is almost the same in both the speakers.
If you are someone who wants a speaker for party purposes then Boat Rugby might be a great option, and on the other hand, Boat Stone 600 is a good choice if you go to the gym or running.
It would be great if you can compare them according to your need and select the product that's best for you. So, I hope you got a rough idea about both the speakers.
Hope you like it. Please share and Support SpeakersTrend.