Best Tower speakers under 10,000 rupees in India. They are also known as floor standing speakers that typically have better dynamics than any other types of speaker. They are wireless and easy to play, if they have high efficiency but not all of them are premium and qualified. So, if you love these sexy looking tower speakers then today we will walk you through our list of best Floor Standing Tower speakers under 10000 rupees.
Tower speakers usually sound the best and give u full-range sound. One can almost get a sense of the performers to spread out in front of you when the speakers are properly placed in the room. The speakers are hard to hide since they are large and tall. But there are no reason to hide because these music systems are going to be the charm of your room, party or even it goes well with the TV sets.
They need to be placed away from the wall to get the best sound quality out of it. So, which are some good floor standing tower speakers you can use without any complaint? We have it here-
More Reviews: 
7 Best Soundbars under 1,000 to 5,000.
Top 5 Under 5.000 to 10,000 rupees.
10 Best Music Systems For Home.
Top Tower Speakers under 10000
Floor-standing Speakers are the top of the line speaker for a speaker company. These tower speakers are not for every person and environment due to their large size, also, these speakers can give you an amazing three dimensional sound when properly placed in your room. Generally, they are 7 inches in width and 3 feet tall.
So, without wasting much time, here are our reviews on the top quality 5 tower speakers under 10000 rupees in India.
1. OBAGE DT-2425 Dual Tower Speakers System
It is the cheapest among all other music systems in the list, yet it is a value for money product because it has a pretty premium look and a dual tower audio system.
The OBAGE DT-2425 is a floor standing tower speaker that comes under 6000 rupees only. It has better sound, better design and overall quality under this price range.
The sound drivers are amazing and this system is simply plug and play device. It has MIC connection, AUX cable for Mobile play, A/V jack, physical sound control and much more.
Have a look at some pros and cons of the music system listed below.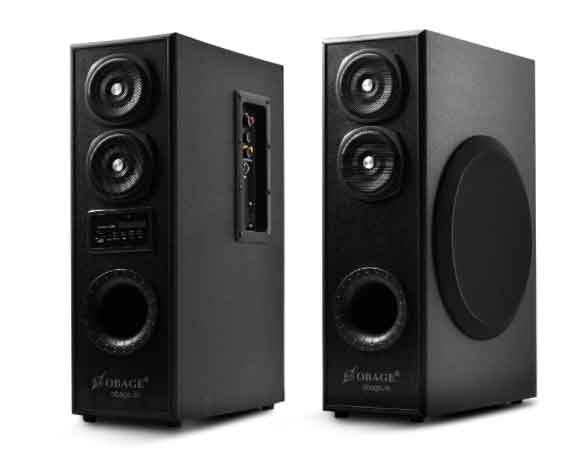 Pros:
Deep clean bass to enjoy the feel of volume at every volume.
Volume, bass, and treble control to match your listening taste
Interface support- Bluetooth, USB, FM, Aux, MIC.
Bass technology- Bass Reflex, Side Firing
No background noise during Bluetooth
V-shaped sound is also known as fun sound results in a fun-type listening experience.
Cons:
Heavy i.e weight is 17.3 kg
Only one year warranty against manufacturing defect.
Conclusion: This product comes under the brand name OBAGE having a dual speaker system with side-firing bass reflex and Bluetooth connectivity. If you are looking for a good Floor Standing sound system under a price range around 6,000 then you may go with this product.
2. Philips 2.1 Floor Standing Tower speaker under 10k
Here it is a another floor standing music system from Philips with a bass reflex tower speaker system that delivers powerful, deeper bass. looks as good as it sounds. speakers that are perfect for playing music, games, movies, online videos on both mac, pc, and in your smartphones.
Besides the premium sound of Phillips, just look at the premium look this tower speaker has. With two beautiful slip tower, this speaker perfect for the PS5 or any TV theater room.
Its powerful 80W sound output and deep bass can really make you proud when it comes to home party. Also, this sound system has all the connectivity solution you seek in an modern music system.
The speaker system comes with multi-connectivity options like wireless streaming via Bluetooth. It also has other inputs like USB, audio-in, 2RCA to 2RCA cable and SD card input. There is a built-in FM radio in it too.
If you do not like the 80 Watt sound then then you can go with the beast with 120Watt sound output with a little extra money. Check Link Below.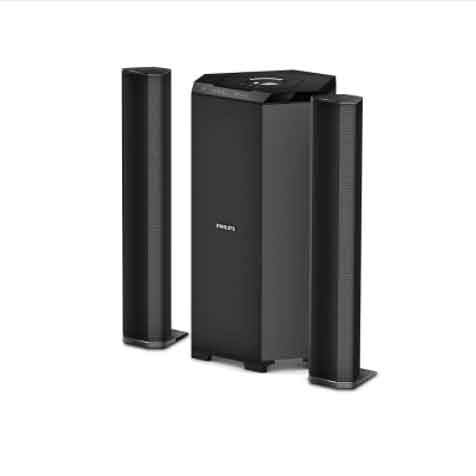 Pros:
80 watts of sound output and Bluetooth connectivity.
USB direct for MP3 music playback
Rich bass
2.1 channel speaker system
One lithium-ion battery required
Cons:
One year warranty
No digital display.
Conclusion: Philips 2.1 this speaker is really cool and it comes in second number of the list. It comes with a bass reflex 2.1 channel speaker system.
Other features include USB direct and Bluetooth connectivity that delivers deeper and powerful bass. Still looking for a tower speaker that is around 6,000? Well then this floor standing tower speaker can be yours to enjoy under the value.
3. OSKAR BT 2.0 Wireless Tower Speaker under 10k
OSKAR's amazing Tower Speaker under 10000 rupees, this product in the third number of the list is a 15,000-watt PMPO 2.0 Bluetooth tower speaker with full remote control and FM radio with a karaoke mic.
The OSKAR BT2.0 floor standing tower speaker is a wireless sound system and it also supports AUX cable. Other than that, this one has lots more feares.
This sound system maybe not suitable for your TV room but as a dual channel tower speaker. this one is good for parting outside.
With the two Mic support, you and your friends can really do good with singing, parting, announcement etc. It can be also used perfectly in a poem competition for the kids. With the smart easy mode, you will not face any problem like you used get on the old amplifiers.
Look below for the pros and cons.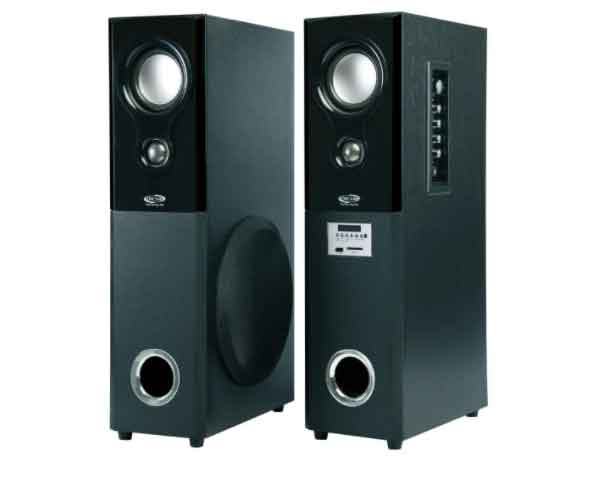 Pros:
Digital FM radio
2 external mic jack slots
Bluetooth connectivity
Pan India service
USB and SD card reader.
Cons:
No batteries included
Warranty 1-Year
Only one wireless mic can be used at a time.
Conclusion: Oscar trusted since 1984. It is a dual tower audio system with Bluetooth, FM radio, USB, and sd card reader functions. If you are looking for a music system in a range of around 7,000 then you may go for this one.
4. Philips in-SPA 9060B/94 Tower Speakers under 10000
Philips is in the number four is one of the best sound systems out there in the online market in its segment. it just looks and sounds wonderful.
Philips in-SPA 9060B/94 Tower Speakers comes under 10000 rupees and a very powerful floor standing sound system for large room or theater halls. It has Bluetooth, Aux support, audio video, mic and all the other basics you need with a floor standing speaker.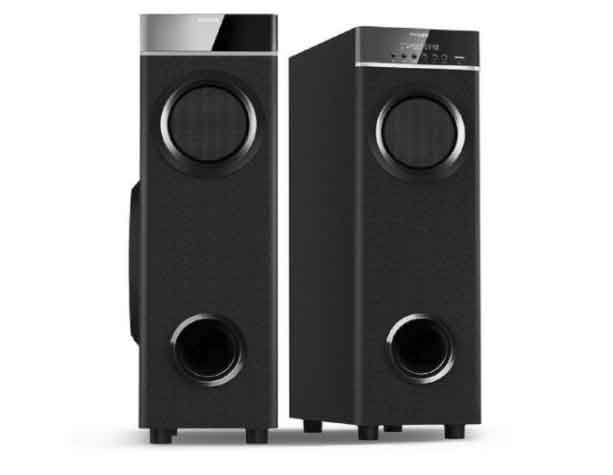 Pros:
Works with any Bluetooth enabled device.
USB Direct for easy MP3 music playback.
60W power output
FM tuner for radio.
Wireless connectivity
Lithium-ion battery included.
Cons:
1-year functional, electrical defect repair warranty.
Sometimes issue with FM radio.
Conclusion: Made by Philips, with dual tower style that looks and sounds just amazing. additional features include Bluetooth and USB Direct for easy MP3 music playback, and FM radio. If you are looking for a floor standing music system something in around 8,000 rupees range then you may go with this one.
5. Zebronics ZEB-BT7500RUCF Tower Speakers under 10000
This music system in the number fifth is top of all the products listed above in case of pricing and functionality. Build quality is premium Looks stunningly amazing. the sound simply comes to life while watching a movie or listening to your favorite audio track.
Zebronics ZEB-BT7500RUCF Tower Speakers under 10000 is sound system that every luxury lover need. It also has 3D sound quality and very pleasant and deep bass to give you the rock. one can enjoy a breathe taking sound experience with this powerful range of tower speakers.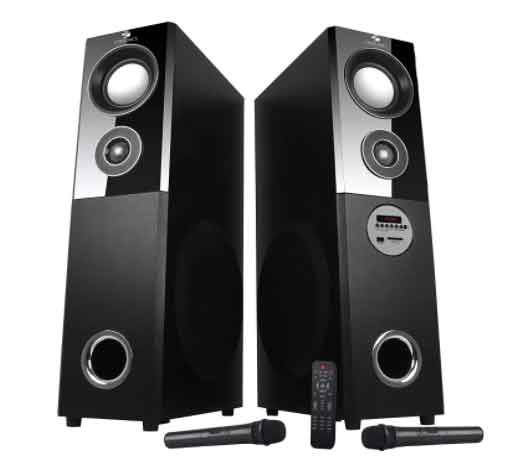 Pros:
2.0 channel tower speaker.
Supports Bluetooth.
LED display.
3-way speaker.
Remote control.
Dual microphone input jack.
Two wireless mics.
Cons:
One-Year warranty.
Batteries not available.
Sometimes issue with the mic.
Conclusion: This Zebronics with a dual tower speaker system, having wireless Bluetooth, USB/SD/FM/AUX connectivity interface, three-way speaker remote control, dual-microphone input jack, two wireless mics, etc.
So, are you are looking for a expensive and premium quality floor standing tower speaker in a range between 9,000 to 10,000 rupees price range? If yes, then you may go with this product.
Tower Speakers Under 10k Buying guide:
Music systems are a kind of long-term investment so you must know about what and why u should go for a certain type of music system. Let's begin with some important things you should know before choosing music set for you.
* Firstly, sound systems are described as two-way, three-way, four-way, and more.
* Secondly, generally, a wooden cabinet sounds better than plastic or metal, so you must go for the one that is made of wood.
* Thirdly, nowadays, we play music more often with our mobile phones so you must choose the one that has Bluetooth connectivity.
* Fourthly, other features that u have to look at while choosing a music system that is playback through Pendrive and memory cards.
Conclusion: some tower speakers also come with microphones connecting features, with which you can have fun in the house parties. the bigger size of tower speakers allows them to move more air through the drivers than any other music sets. tower speakers have additional woofer driver as well, that creates more bass.
So, here are all the 5 best best tower speaker floor standing music system. If you like any of these, please consider buying it from our affiliate to support Speakers Trend.
More Reviews:
10 Best Wireless Speakers for Outdoor Parties
20 Best Portable Bluetooth Speakers in 2020