Want to know about Smart Speakers? Here are the 5 Best Smart Speaker with Alexa for your Smart Home and Family.
Alexa is really going through a lot of discussions. People from all over the world are preferring smart speaker with Alexa enabled features. These speakers are smart and have smart voice commands.
All you need to do is give a voice command and your speaker will do the rest. You won't even have to go to the speaker as soon as your speaker can hear and understand whatever you are saying.
So, today I am going to list up the best of 5 Alexa smart speakers that you can find online. These smart speakers may cost you a lot but you can really use these speakers with perfection. So, let us get started.
Also Read:
7 Best Soundbars under 1,000 to 5,000
Best Soundbars: Top 5 Under 5.000 to 10,000
But before that, some important topic about Alexa in case you don't know-
What is Alexa Smart Speakers?
The Amazon Echo product is known as Alexa Speakers. All the Amazon Echo product responds to your voice commands when you say "Alexa". Amazon introduced these speakers quite a long time ago and people started to like them very much.
These Amazon exclusive smart speakers are really ahead of their time. Equipped with a high-tech voice command catcher, these speakers are connected to an application like Google Voice Assistant. Also, your speaker is connected to Wi-Fi. So, it starts listening to your voice command and starts processing it only when you say Alexa at the first.
Benefits of Smart Speaker with Alexa-
Very styling and smart look.
Alexa is more capable than Google Assistant.
Build for smart homes.
Can even control light, fans, and other products that support wifi and Alexa.
Storytelling, learning, Music, etc are just some other positive sides of a Smart Speaker with Alexa.
5 Best Smart Speaker With Alexa
There are a lot of products with inbuilt Alexa but most of them are Amazon products which are basically Echos.
But today in this article I am listing the different type of smart speakers that has Alexa enabled feature. So, here are the 5 best smart speaker with Alexa to choose from-
Bose Smart Speaker for Home
This speaker called Bose Home Speaker 500 is featured with inbuilt Alexa inside it. It is not only the best for its sound quality but also it has some most amazing Tech equipped in this speaker.
As this smart speaker with Alexa inside is a home speaker, it is quite big and heavy. Bose Speaker 500 Tripple BLK is more efficient to shake your whole house with Super Bass.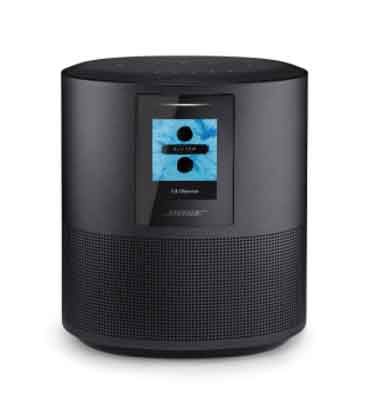 Pros:
Single Speaker Stereo
Built-in Alexa Voice Control.
Bluetooth 5.0
Wifi Integrated
Bes Quality 8 Errey Mic to hear your voice from any corner of the room.
3 Different Control Mode(Tap, Voice, and Bose App)
High-Quality Sound
Super Bass
Durable
LED Display.
Cons:
High Price.
Quite Heavy.
Only Two-Color Variant.
Only Round Shape.
Some Customer Expects Improvements.
Conclusion: If you are a real music lover and listen to songs all day long sitting in your room then this one is for you. Best and Advanced Tech equipped this speaker not only saves your time but also gives you the smartest look for your smart-looking house.
Check Bose Home Speaker with Alexa Price on Amazon
Amazon Echo- Portable Smart Speaker
As I mentioned before, Amazon Echo is the best Alexa speakers you can find. If you are looking for a full version of Alexa control then this one also a great one.
This is an all-rounder Alexa Speaker. This Amazon Echo product allows you to set an alarm, listen to music, turn lights off, operate your smart TV. This is a complete Alexa Device.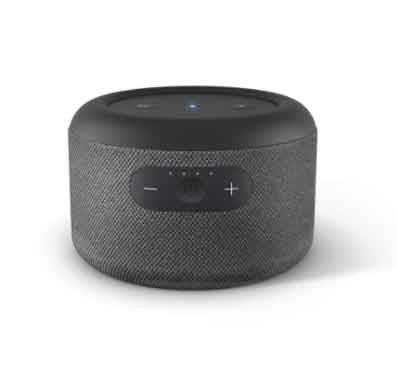 Pros:
Portable.
Wireless
Best for Melody Musics.
High-Quality Built-in Mic.
Have Fun with Alexa.
Ask for food or order anything online.
The Complete Smart Alexa for your Smart House.
Compatible with Syska, Philips, and other Smart Electronics.
Cons:
Not for Music Lovers
Poor Bass
Quite Small
Not for Old Devices.
Limited Alexa Features.
Some Complaints about Mic
Average Sound Quality.
Poor Quality Built.
Conclusion: Some of the Amazon Echo Smart Speakers are overrated. These devices not for music lovers for the fun really.
If you are not looking for the best music or maybe you want the best Echo Device to fill your smart house. This one is for you. Ask Anything just saying after Alexa and your Alexa the personal assistant will do it for you. Available in 3 colors.
Amazon Echo- Portable Smart Speakers with Alexa on Amazon at 5,799/-
iBall Headphone with Built-in Alexa
Looking for this? Yes, this Headphone is an iBall Product that has some great wireless features including Alexa. Very Stylish looking this Headphone has an inbuilt mic that can hear and understand your voice. Equipped with other features like Bluetooth 5.0, SD, FM, etc.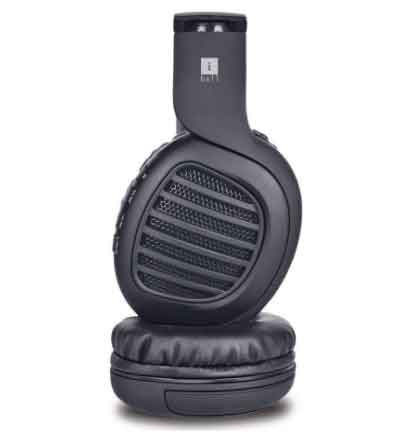 Pros:
1 Year Warranty.
Beautiful Design
Ear Coverd Set for Noise Cencelation.
Trumping Bass
Built-in FM Radio.
Built-in MIC
Bluetooth 5.0
Foldable and Portable.
Ask Alexa anything about your favorite Music.
Cons:
Not so durable.
Average Battery Quality.
Low Price Product.
Limited Alexa Features.
For music lovers only.
Only one color available.
Not a very long Bluetooth Range.
Conclusion: Want to look smart with your smart speaker? iBall Decibel Headphone with Alexa Built-in is just for you. Look cool around your friends while you are giving your Alexa Head a voice command or enjoy your personal time with your best bass booster headset. It is all up to you.
Get this Headphone with Built-in Alexa now from Amazon at 999/-
Wireless Portable Smart Alexa Speaker
This tiny speaker is no less than the beasts that I mentioned above. This small speaker called Motorola Sonic Boost 230 Rugged Wireless Smart Speaker with Alexa (Black) is a tech-packed speaker for your best portable song amplifier.
It will satisfy your every need for a portable travel speaker. Also, the most needed feature is the built-in Alexa.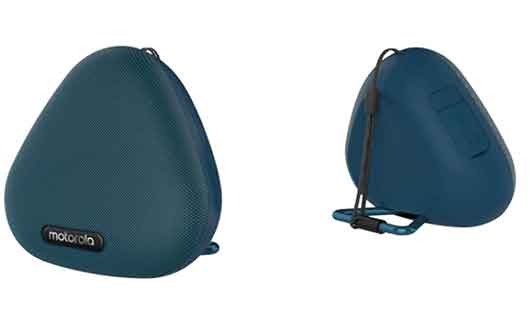 Pros:
Good Sound Quality.
Impressive Bass.
Small and Portable.
IPX7 fully waterproof.
Bluetooth 5.0 connectivity.
Full Wireless.
High-Quality MIC
Built-in Alexa.
Free Shiping.
Cons:
Not for the room.
Battery Charging Time is high.
Average Battery Uptime.
Tringle Shape.
No Warranty.
Average but effective Bass.
Conclusion: Can't expect many features but this speaker has. Because of its small compact size, it can't give a party like bass and sound. If you are a traveler and love to travel to the far land and sit quietly while listening to music then Motorola Sonic Boost 230 Rugged Wireless Speaker with Alexa is for you.
Get this Wireless Portable Smart Speaker from Amazon at 1910/-
Best Asus Smart Speaker for Home
Love Asus? Then you will definitely love its model. This one called Asus Home Mesh is one of the best smart speaker with Alexa Enabled Feature.
With AC2200, this beast can satisfy your sound need in the house. Also, connect wifi, give a voice command, or use Bluetooth. Everything perfectly supports this Smart Speaker Bar.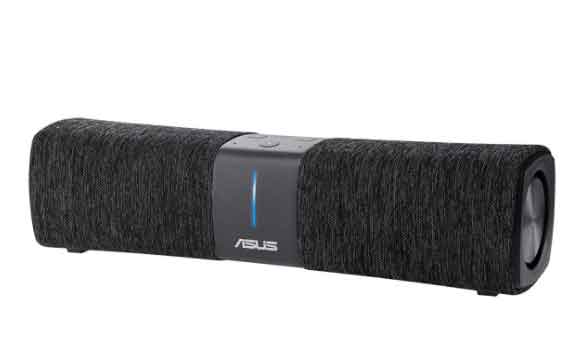 Pros:
Asus Brand.
Beautiful look soundbar
Best For Home.
2 Side Woofer.
Air Protection.
28W Stereo.
With Amazon Alexa.
AC2200 Triband Wifi System.
High-Quality Bluetooth.
Built-in High Capacity Mic.
Cons:
Heavy Weight.
Not for Portable.
No Carrying Bag.
LED Lights are not there.
There is no carrying handle.
Conclusion: Asus makes great products we all know. But this is one is really ahead of its time. Its great stylish look, amazing built-in tech, and beast-like sound can rock your house from every corner. And also the Alexa will help you to just have a relaxing time.
Check Asus Home Speaker with Alexa Price.
How To Buy Alexa built-in Speakers
Alexa is there for many reasons. It depends on you how do you want your Alexa to be. These amazon echo products are very capable but when it comes to listening and enjoying the music all it needs that your Alexa works well with your Voice Commands, Internet, and Ofcrouse the MIC.
Voice Commands: This is one of the important features you need to look at while you are buying a smart speaker with Alexa enabled features. Of course, you will want every of your voice commands to work with it. So, every time you need to be sure that the Alexa program inside the device work right and long without any bug.
Wifi Router Internet: Of course, a smart computer works smartly with the best internet. All these products I have mentioned have the best Wifi Features in it. So, before you buy a smart speaker or Alexa speaker, also look for the best internet amplifier with it. Because, without the Internet, your Alexa is useless.
MIC: Microphone is also one of the most important things to ask in an Alexa or Smart Speaker. I have mentioned the 5 variants of Smart Speakers with Alexa or Amazon Echo built-in. These speakers have to catch your voice to the process. So, if you don't want to keep shouting at your Alexa then just make sure that you are getting the best Microphone with it.
Conclusion: Whatever it needs to buy the best Alexa speaker or a better smart speaker is here. These are the best Smart Speakers with Alexa you are looking for. Choose any of these Alexa Speaker without giving any second thought,
I tell you that you won't regret it. Each one of these 5 best smart speakers is according to your needs. If you want portable then go for portable or if you need your smart speaker for home then you can go with the best.
I hope you all like the Article. Also, share with your friends who need it.
Also Read:
Top 10 Best Bose Speakers to Buy from Online