Soundbars are is very popular among music lovers. Looking for a decent soundbar for music? Here is a list of top 7 best Soundbars under 1000 to 5000 rupees price range in India online.
A Soundbar is stylish and eye-catching. When you want to use a music system in your personal room, you should look for a soundbar. These slim and cool looking speakers are stylish enough for your beautiful home. Also, they give a very impressive HD sound which is almost like a theatre. So, today I will be telling you about some of the best soundbars that you can find in India under a price range of 1000 to 5000 rupees.
What is a Soundbar?
A Soundbar is basically home music systems that are very different from normal music systems or speakers. A soundbar is a long and slim bar that gives you a better quality sound in a wider range. Also, a soundbar speaker has every possible feature built-in. These soundbars come in many different price ranges and the price range decides how is your soundbar's sound quality will be.
Soundbars are very different because their acoustic sound quality is made for a larger area to cover. These sound projectors can project sound in a wide range of areas. As we are going review some best soundbars under 1000 to 5000 rupees, we might not get the best ones in this price range.
Soundbars can be used for many purposes such as, for home music, or outdoor entertainment, theatres, etc.. Yes, they are portable and Bluetooth featured too. But the best way to use a soundbar on a TV. Why? Because it is the best.
In case you are looking for Best Sound Quality in a low price then you can check-20 Best Portable Speakers to buy in 2020
Best Soundbars under 1,000 to 5,000 rupees in India
In this list, the best soundbars refer to some of the best soundbars that will give a pretty good sound experience in a small-medium house. So, let's see what kind of soundbars we can get under 1,000 to 5,000 rupees in India.
1.

Portronics_Pure Sound Pro III Wireless Soundbar

This is one of the best Soundbars under 1000 I have ever seen because of its compact design and low price. You can buy those small portable speakers under this price but you can't find a soundbar under only 2,000 rupees like this one.

This one Portronics_Pure Sound Pro 3 is capable of delivering 10W sound output which is enough for a small room size.

Other than that, it has bluetooth, and AUX for music playback, Average 2-3 hours of battery backup, and USB-b charging too.

If talk about the sound performance, the dual sound driver provides a wide range sound with a decent amount of bass.

Talking about the design, its slim body and shiny black look just classy for a soundbar.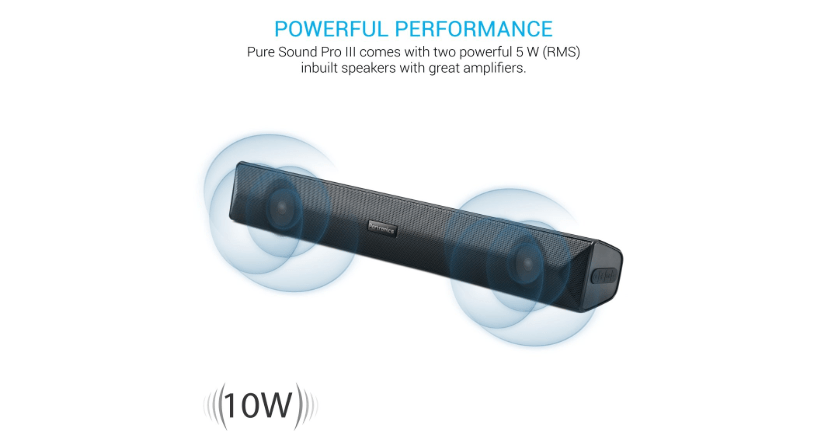 Pros:
A very compact and portable soundbar.
With buttons and Bluetooth control.
2500mah built-in battery.
Pure, clean, and wide-range sound.
USB and Aux cable support.
One tap button to change the channel.
7-hours of playtime.
Cons:
No Warranty.
No portable carry bag.
Portonic brand is not that famous.
Most are positive review but there are some negative reviews too.
Only 2 speakers inside.
Not waterproof.
Conclusion: Under low budget, this Portonic soundbar is a good choice for a mid-size TV or small room. You can just keep it on any table and start playing the song. This soundbar is also very stylish looking, and you can see that in the picture.
2.

Mi's best Soundbar under 5000 with 8 Speakers

Xiaomi Mi is a very famous brand in India, and this is a very good looking Mi brand called Mi Soundbar 8. This speaker is very slim and almost looks like a tube light. Its 8 speaker drivers to give you an impressive sound quality and best soundbar experience.

A  bit more fancy and pricey, this MI soundbar speaker is a surprise for us. It has 8 speakers inside capable of delivering a theatre like sound for home. Better for any TV and mobile devices as it has multiple connectivity options such as S/PDIF, optical, Aux-in and Line-in connectivity ports.

Mentioning about its size, this speaker 83 in centimeter which 32 inches. It can deliver upo 28 watt output and capable of 3 hours battery backup.

This speaker also run with power while it is charging too.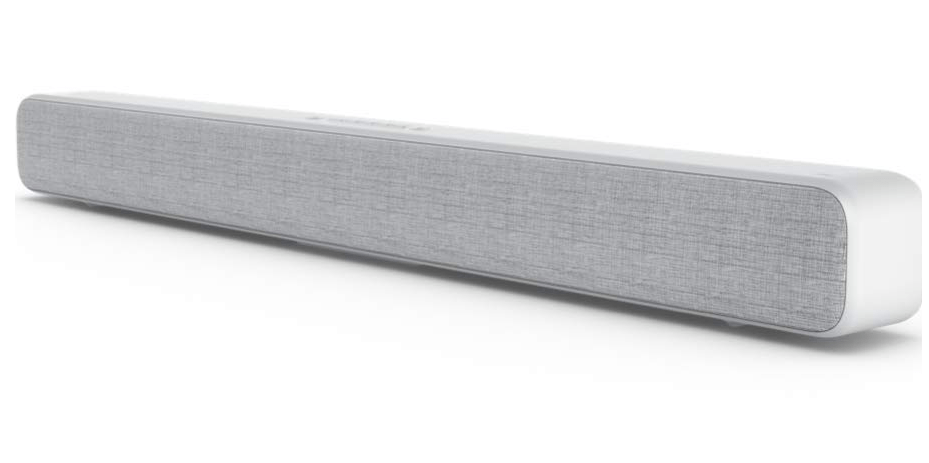 Pros:
Improved 8 sound drivers inside.
S/PDIF, Aux cable, and Bluetooth available for mobile devices.
Very easy to use.
Light and portable.
Black and White colors available.
Large area sound cover.
Impressive bass.
Battery up to 6 hours playback.
Cons:
No warranty.
The battery is not that good.
High Price.
No cable has given.
Platic built.
Conclusion: In This list of best soundbars under 1000 to 5000 rupees, this one of the good soundbars in the list. However, it can give you a pretty decent quality sound because of its inbuilt 8 sound driver, which is very rare to find in any other soundbars.
3.

Mulo Arena 5000|best Soundbars under 1000-5000

I guess you are looking for this one. Another very stylish and cool looking, slim soundbar. it is called Mulo Arena 5000 and this product has one sub-woofer and one very classy looking soundbar. Mulo's product is one of the best choices if you are looking for a soundbar under a price range.

The big long soundbar and the sub-woofer can be the best choice for your drawing room. It can also go with your TV very nicely. Also with the 45 watt sound output and 25 watt sub woofer, it feels like real theater at home.

The look is very catchy in classic black colour. Also comes with premium Mulo brand logo.

About the connection, it comes with with an AUX to RCA and an AUX to AUX cable which enables it to work with TVs (LCD/LED/Smart) computers and tablets

This item is a Value for money Arena 5000 offers unmatched value in home audio products in its price range, making it the perfect complement for your television, mobile and tablet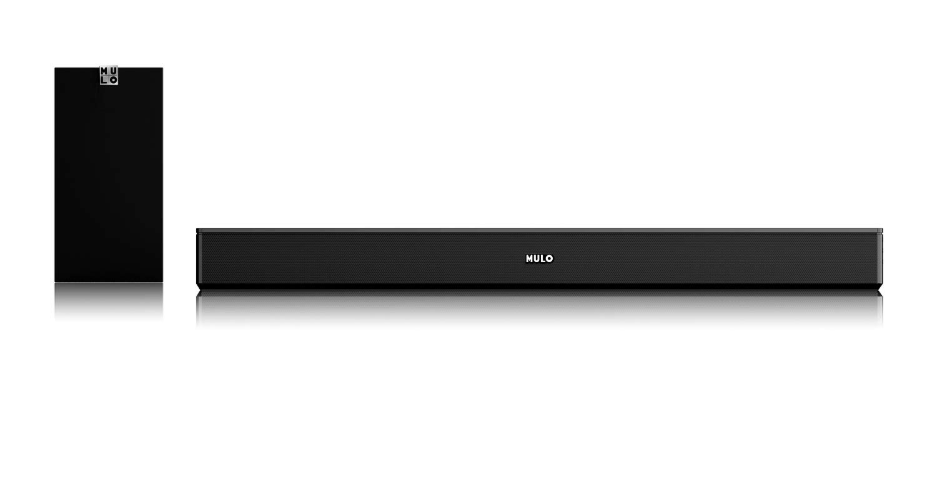 Pros:
One slim and trim soundbar.
One small but powerful subwoofer.
RMS 45W output.
Powerful bass.
Sonic boost TV watching experience.
Bluetooth, Aux cable, Audio-Video support.
TV, LCD, LED, Smart TV, Computers, and Tablet support.
You can set it on a table or mount it on a wall or ceiling.
4 defined mode. (TV, Music, News, 3D).
Remote and button control.
Cons:
High price.
Not waterproof.
Best in design but not in quality.
Average material(plastic).
The highest volume is not that good.
No specific warranty.
Conclusion: You can go to this best soundbars under 1000-5000 without any doubt. There won't be any better soundbar than this one under 5,000 rupees in India. It's stylish look, multiple music mode and wall mount like features are very unique and rare under this price range. No doubt this one is also one of the best soundbars.
4.

Instaplay Insta Storm 4.1 Soundbars under 1000-5000

Instaplay Insta Storm 4.1 Soundbar is another soundbar with many features and one extra subwoofer. Sub-woofers are rare with such soundbars under this price range. Also, it's very good quality sound and stylish look won't disappoint you.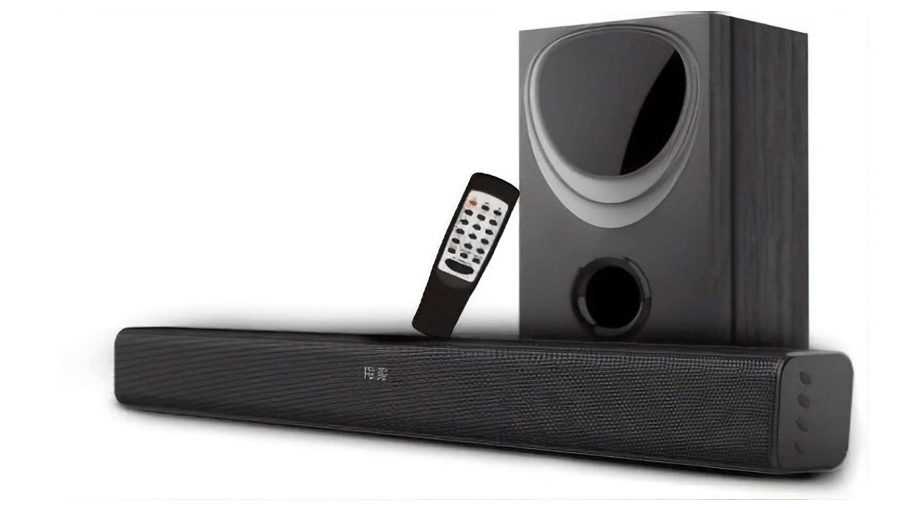 Pros:
One big Subwoofer.
One stylish soundbar(black).
perfect for TV, LED, LCD, smart TV, PC, laptop, and tablet.
Bluetooth Aux cable and Audio-video support.
Wide range of high-quality sound.
20khz frequency and 50W output.
Trembling bass.
Multiple installation modes.
Cons:
Chinese product.
No warranty.
Average plastic material body.
Overall nice but some negative reviews.
Quite heavy and non-portable.
Conclusion: Soundbar Under 5,000 rupees, this home theatre like soundbar system is a pretty unique and good product. Its sweet voice, stylish look, and long-lasting service will not disappoint you. We can use this soundbar system for small to medium rooms or dining halls too.
5.

F&D E200| Best Soundbars under 1000 to 5000 price

All in one soundbar speaker system, this one is from F&D. As you can see, this is not just only a soundbar but also has a volume control knob. This soundbar is a whole Sound system, and its compact design has all the basic features that a sound system can normally have. Also, this soundbar is one of the cheapest soundbars in the online market.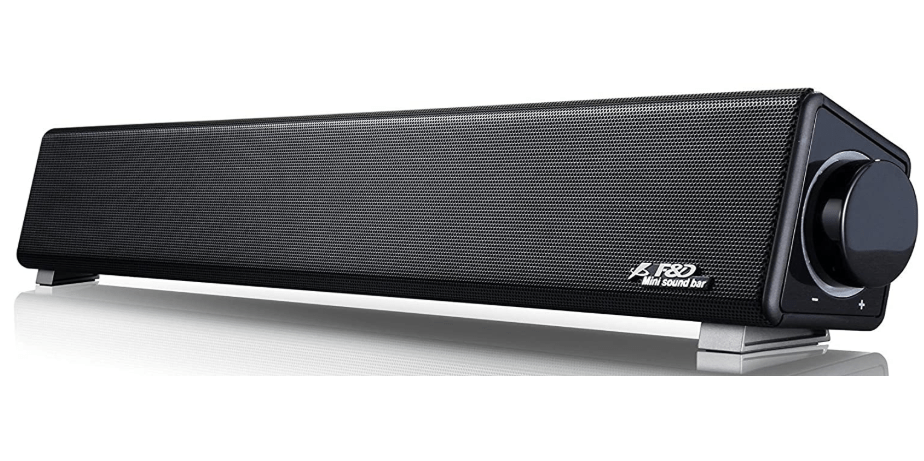 Pros:
Under 1000 rupees.
Light and portable.
USB and Aux cable for music playback.
Volume control and other physical button built-in.
3w output with impressive bass.
Clear and wide-range sound.
up to 20khz frequency response.
Stylish black in quartz shape.
#1Best Seller on Amazon
Cons:
Average material quality.
No warranty.
Very cheap.
You can use it on a laptop and PC but not on TV.
Compitable for small rooms.
Conclusion: Choosing a low price product? This one only comes in 1000 rupees. So, I would insist you go for this because you won't find any better soundbar than this one under only 1000 rupees.
6.

Creative Stage Air Compact USB Soundbar

This one is a very compact size soundbar. It looks quite average but its radiator gives you impressive bass with powerful sound. Creative Stage Air compact soundbar can be operated with USB and AUX cable.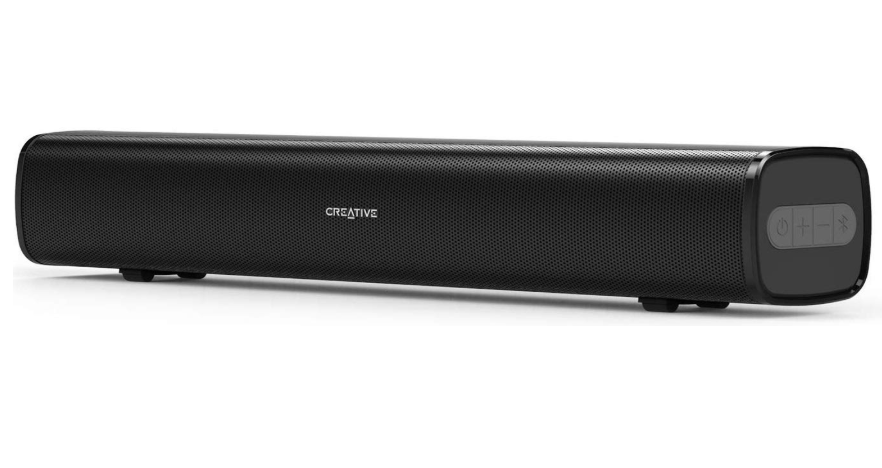 Pros:
Bluetooth, Aux cable, and USB support.
Under Monitor Soundbar.
Clear Sound.
Dual radiator for powerful bass.
2200 li-ion battery.
hassle-free control.
Easy multiple channel mode.
It can be mounted on walls too.
Cons:
Only physical button control.
Buttons are average quality.
Average quality plastic built.
Not so heavy duty product.
Interesting bass but full volume is not that good.
Conclusion: A home theatre system can easily found under 3000 rupees but if you still want a soundbar then you should go a little higher price and get a soundbar with the woofer. I have mentioned some best soundbars which you can look below.
7.

Interplay 10W Wireless Bluetooth Soundbar

Interplay 10W wireless soundbar speaker is also a pretty good music bar under a low price range. This soundbar has a pretty amazing design, good quality sound, and some other impressive features in this compact size device.
Pros:
Built-in Microphone.
10W output.
Impressive bass.
Compatible with TV, Mobile, and PC.
Clear sound quality.
Bluetooth, AUX, and USB support.
Slim and Glossy look.
Light and portable.
8 hours of playback time.
Cons:
Average material built
The sound control knob is of average quality.
Speaker is covered by soft cloth not durable.
2 Hours Charging time.
The battery is not very long-lasting.
Conclusion: This best soundbars under 1000-5000 system comes under only 2,000 rupees. Its cool look and compact design also allow you to carry this in your bag. This speaker is wireless, stylish and gives you a decent music experience too.
More Readings:
Reasons to Choose best Soundbars
The Soundbar music systems are vastly used for large areas. Some of the best places for the soundbars are Kitchens, Living rooms, Bedrooms, clubs, or theatre halls. However, to makeout these kind of places, you will need some high-quality speakers but in this list, I have mentioned some cheaper products too which are definitely better for small to medium rooms too.
So, choose wisely, and choose for your reason. If you want these soundbar speakers for large areas to cover, then you should look on to some more variants.
Another reason to choose a soundbar music system is the look. The slim-trim design is much better than some big fat looking speaker covering much space in your room. Also, they are very noticeable. So, here are the 7 stylish soundbars to choose from. Most of these soundbar speakers are also can be mount on walls or you can just keep it on the table.
Final Words: So friends, here were all the top 7 best soundbars under 1000 to 5000 rupees.These music systems you can buy at low price in India. All you need to do is visit Amazon from the link given and buy your best choice. Also, you can get a discount or money-back guarantee, in case you don't find it a good choice.