How to connect speakers without a receiver? We all know about the receiver. In our home TVs, we connect the receivers to connect more speakers with the TV. Sometimes these receivers aren't available to every house? So, is there any way to connect speakers to a TV without the receiver? Yes, fortunately, there is and today we are here with the guide on how to connect speakers without a Receiver.
Speakers are important when you are going to enjoy good music or some amazing movie at home. To maintain the theater-like environment, only TV sound is not enough. We can connect speakers to TV in many ways and with many types of cable.
Many of the TVs come with an amplifier or receiver inside. If you do not have them inside also then you may need an extra receiver to connect the speaker.
However, today we are going to learn 3 different ways of connecting speakers to TV without Reciever.
Best Noise Cancelling Headphones for Plane
How to connect speakers to TV without Receiver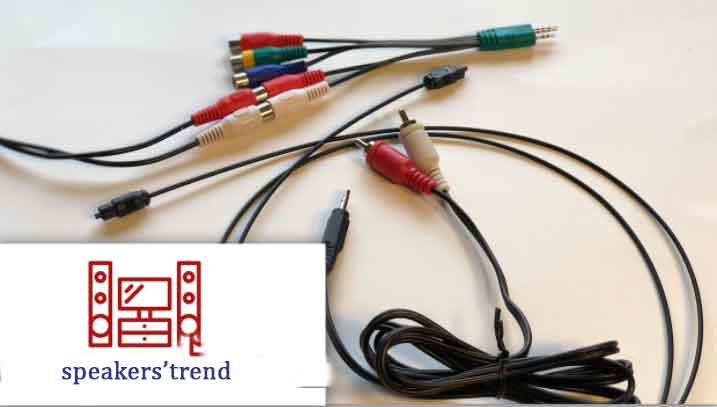 There are multiple ways of doing this, either we can go through a whole lot of processes and buy an amplifier and call electrical or you can follow this simple guide on how to connect speakers to TV without a receiver.
Actually, in today's date, we can replace the use of the amplifiers with multiple options such as 3.5mm AUX cable, the RCA cables, RCA to 3.5mm cables, or of course the latest Bluetooth Option.
In the last, I will share another option. Maybe you all know about this one also, but it sure going to be good learning for those who don't know.
So, the first option to Connect Speakers to TV without Receivers-
3.5 Aux cables
AUX cables are one of the most famous wires to connect any mobile to our speaker system. We all know about this one because the home theater systems and Car speaker system comes with an AUX cable to stream music with mobile phones.
Most of today's new generation TV also comes with an AUX connection. If you are going to connect your home speaker system or any single speaker with the TV then you can simply get an AUX Cable from here and connect each side on the speaker and TV.
Remember, one side will go to the Headphone sign on the TV and another side will go the only 3.5mm hole in your speaker system.
Another way is to connect any speaker to a TV without a receiver is the Bluetooth
Connect speakers to TV Bluetooth
New and advanced TVs like android TVs have the Bluetooth connectivity option. They even come with a Wifi connection but connecting speakers only need Audio Video frequency which is more than enough with Bluetooth.
If your TV has a Bluetooth connection then simply connect your TV's Bluetooth with the speaker's Bluetooth connection to connect the speaker with the TV without a receiver.
This should be very simple on the android TV. Simply turn on the speaker and search the speaker Bluetooth on the TV and connect.
In case one of your machines doesn't have Bluetooth. You can buy Bluetooth USB from here. After you get one, just plug it on the USB port and your speaker's Bluetooth will be visible on your TV Bluetooth settings.
the 3rd option to connect the speaker to the TV without a Receiver is the Audio/Video cable or we also know it by the name of RCA cable. Yes, the wire with 3 different heads which are red, yellow, and white. Some of them also come with two heads. The Red and the yellow.
Use RCA Cables
RCA Cables are one of the old ways to connect speakers or DVD players to TV. All TV has RCA connectors. RCA cables are cables that have 2 3.5mm plugs on both sides and both of them are either red/white or red/yellow in color.
So, if you already have the RCA cables, you do not need to worry about the receiver or amplifier because the RCA cable will directly connect speakers to the TV without the Receiver.
Another option to connect speakers to any device is the RCA to AUX cable.
RCA to AUX cable
On Amazon, you will find many such cables that have RCA connectors in the one end and AUX connectors on the other end. So, even if you want your TV to connect with home theater, you can easily do this with this one.
Simply connect the RCA side to the TV and AUX side to the home theater AUX side. In the case of mobile phones, connect the AUX to the phone and RCA to the home theater RCA ports.
Hurray, you have learned all the ideas to connect speakers to TV without a Receiver.
Also, this Youtube video might help you to learn to do the job correctly.
Final words: All the speakers or music systems either have Bluetooth, AUX connection, or RCA connectors in the back. We can use either one of these connections to connect speakers to TV without a receiver or amplifier.
Follow this easy guide to learn how to connect the speaker to a TV without a receiver or amplifier in a very easy way.
Thanks for your visit. Follow for more.
More: