Zebronic now has manufactured many kinds of products, like speakers, power banks, earphones, chargers, BT speakers, headphones, and many other things. Just like that Zebronics is very famous for its DJ speakers as well. So, if you are looking for low DJ Speakers at a low price then here is a list of the Best Zebronics DJ Speaker review and Price details.
Zebronics Speakers are very useful when we do some party at our homes with our friends and family. Zebronics Dj Speakers helps to give the maximum sound which suits our ear and does not make any kind of irritation on our ear. They are very soothing to our ears no matter how much party song it is.
More from Zebronics:
Top 10 Zebronics Bluetooth Speakers Review
8 Zebronics 2.1 Bluetooth Speakers under 2000
Zebronics 5.1 Tower Speakers under 5000 Rupees
What to look for in a good DJ Speaker under 5000?
To get a budget range DJ speaker under 5000 rupees, you will surely have to go with the Zebronics as they are made in India, their price value is also very good.
DJ speakers are mainly required for outdoor parties. These speakers are mainly of two kinds. Set of Box speakers and Single large speakers. Zebronics has some really good DJ speakers that are very capable and of high-quality sound output. If you are good with the Zebronics products then you will love these under-budget sound systems for outdoor or indoor parties.
Note: These speakers are compatible for DJ playing but best is to use these speaker indoor parties. You can still get a good experience of DJ but it will be perfect if the party is a indoor one.
5 Best Zebronics DJ Speaker review and price
Zebronics has large field covered while it comes to the music and entertainment. So, without wasting any time, let us check out the top 5 Zebronics DJ speakers under a low price range in India.
In these 5 Zebronics DJ speaker review, to choose the best compatible for you, read the full review and don't skip.
1. ZEBRONICS SPK-ZEB-100 Bluetooth Trolley Party Speaker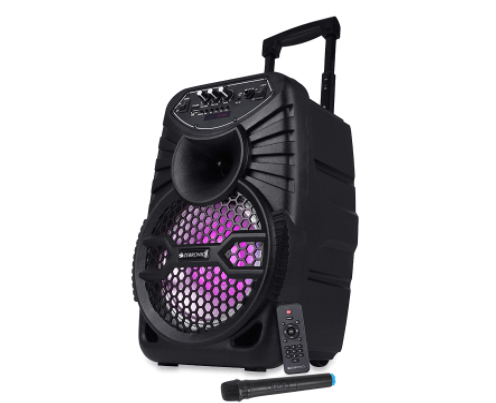 In this review, we have the Zebronics trolley DJ speakers. They are very attractive in design. The company has shown some creativity here, the speaker is a theme-based speaker which looks like a trolley you can carry this speaker anywhere you want to. At the bottom, there are wheels that help people to drag the speaker very easily.
The speaker comes with an LED display lights and an LED light control switch. In this Zebronics trolley DJ speakers, you will also get a mic holder and you can also connect this speaker with an aux cable.
On the front of the speaker you will find all kinds of options, like power on and off buttons, volume control, bass control, USB port switch, all kinds of modes like pause, play, reverse, forward, backward.
You will also find a light switch on the front which helps to control the lights of the speaker. The speakers connect all kinds of connectivity options, like Bluetooth, Aux, USB, FM, Micro SD, and many more. The speaker has a remote control feature as well.
The Zebronics Trolley DJ speaker price is 4,659. At such a price rate you will get a very good sound quality speaker. The speaker is worth buying it.
Pros
Remote control.
Very attractive design.
You can carry it very easily, as the speaker has wheels.
Good battery.
Cons
Too weighty
Some say it does not have good bass quality.
2. Zebronics BT4440RUCF Multimedia Speakers Review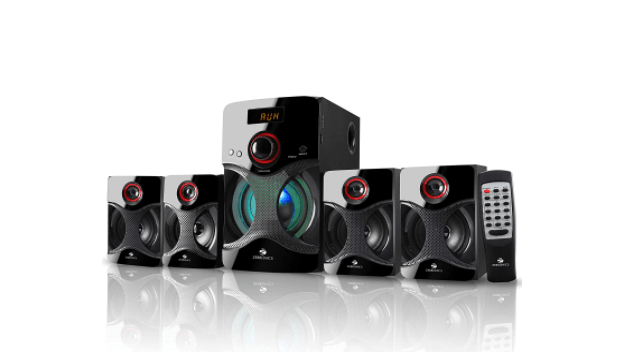 This Zebronics DJ speaker is actually a home theatre system that comes with a full set of 4.1 speakers. This totally looks like that this speaker is made for partying or watching action movies. In the box, you will find 4 speakers and one full control box. You will also get a remote on the box which helps you to control all the systems. The speaker is good at design.
As per the connectivity options, you can connect this Zebronics DJ speakers with Bluetooth, USB, Aux, and many other options you will find. You will get an LED display here. This speaker has good sound quality.
As per the specifications, the speaker has an input power of AC 230V/ 50Hz. The weight is 4kg 300g. Audio wattage is 60 watts.
We always provide the Best Zebronics DJ speaker review with our honest guide and opinion. See the full review of this very product by clicking the below link.
Pros
They are beast if you connect them with Bluetooth.
Remote control.
LED Display lights.
Affordable price.
The sound is clear, does not give any kind of disturbance.
Cons
The bass is low but the sound quality is good.
Too weighty.
Best Zebronics Home Theatre under 5000
3. Zebronics Zeb-Sound Feast 100 Portable DJ Speaker Review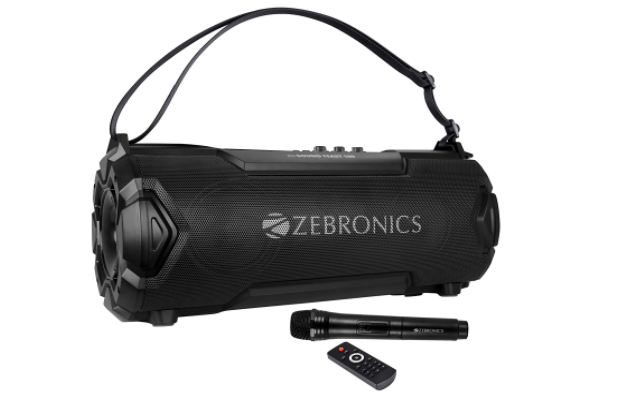 Connectivity, SD Card Input, and Built-in-FM
This zebronics DJ Speaker is boombox design. It also looks very attractive. You will also find a handy strap on this speaker which helps to easily carry the full speaker like a bag. This Zebronics DJ speakers is very creative. This is perfect for outdoor parties. You can carry them like a bag.
As per the connectivity options, you can connect this best zebronics DJ speakers with your smartphones, laptop, desktop through Bluetooth or aux. It also has USB, MSD, FM options in the back.
At the back of the speaker, you will find the switch on and off buttons, LED indicator, charging port, LED display, Media controls, Echo control, Mic volume control, and many more which make it easy to use. You will also find remote control in this speaker. You will find an in-built feature in this speaker that is a wireless mic which you can connect very easily.
If we see the specifications the item weight is 3kg 600g. The maximum output power is 26 Watts. Zeb-Sound Feast 100 comes with dual 10.2 cm drivers producing 26watts RMS output.
Pros
LED Display.
Remote control.
Creative and attractive design.
Good sound quality.
Handy, you can carry it anywhere.
Mic connects instantly and sounds good.
Cons
Charges very slowly.
Not for noisy places.
4. Zebronics Zeb Claw 4.1 Multimedia Speaker with Bluetooth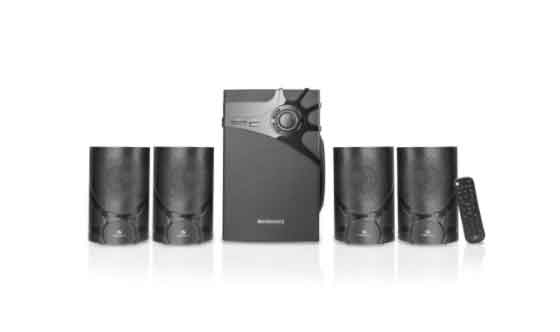 Support, LED Display, Built-in FM, and Remote Control
This is the stylish Zebronics DJ Speakers 4.1 which has multi-connectivity options. The sound quality of this speaker is very good.
As per the review of this Zebronics DJ speaker review, It is good if you are having a party in your home with your family or friends. You can connect the speaker with any device like smartphones, laptops, or any other device through Bluetooth, AUX, USB, or many other options. You will also find FM radio options and SD card options here.
As per the design, the ZEB-CLAW is very stylish and gives a rich look. The texture is fully rich finished on the front panel. This looks very attractive in design. In the front you will find various kinds of buttons like LED Display, switch on/off, SD card slot, Volume buttons, and many kind of modes like play or pausing the button, changing the volume of the song, and many more.
If you see the specifications, the speaker is a remote control, you can control them with your remote at a distance. Subwoofer 40Hz-150Hz. The maximum supported memory size is 32GB. The weight of the speaker is 6kg 250g.
Pros
Very glossy and rich textured finish.
LED Display.
Remote control.
Budget-Friendly.
Good sound quality
Cons
Bit weighty.
Bass is not that great.
Best Zebronics headphones Buy Online
5. Zebronics Monster PRO 2X10 BTRUCF 2.0 Multimedia DJ Speaker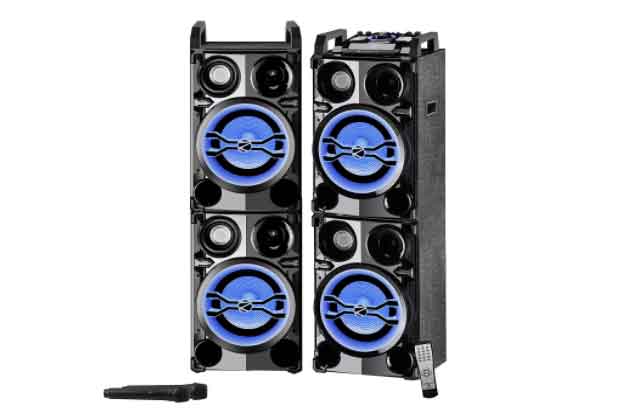 This zebronics DJ Speaker is very big and bulky in size. The design feels like the speaker is all about party songs. It has an LED display which looks very attractive. The back of the speaker has many options, it has, speaker output, Audio input, DC output, LED switch, and power switch.
This is also controlled by a remote, you can use the remote from a distance. The speakers come with a wireless mic. On the top of the speaker, you will find all kinds of options, like, controlling volume, connecting options, and many more.
You can connect this zebronics DJ speakers with any device, like smartphones, laptops, or desktops, via Bluetooth, AUX, USB, and many other options. It also supports FM and SD slots.
Pros
Attractive design.
Good sound quality.
Remote control.
Wireless Mic.
Cons
Very large and bulky.
Too weighty.
Summary: This is the top 5 Zebronics DJ Speakers at 5,000. You will find every speaker here worth buying it. Here I have discussed the best features and specifications you must know of all speakers. I have tried to explain the description of each and every speaker so that you don't find any difficulty when you are buying it. You can just read them and understand the details of the speaker and then decide if you like it or not.
If you still have any difficulty about the product let me know on the comment section and if you have any more speaker which you want me to add do not hesitate to comment below.
So which is the best speaker you want to buy?
Share and Support SpeakersTrend.
Also Read: 6 Best Sony Neckband Bluetooth Earphones