F&D Home theater systems have been in existence for quite a while now. It is an Indian company that is making affordable and quality Music Systems. They give you a wonderful theater music experience. So, today we are here to help you choose from our best of 5 F&D Home Theatre 2.1.
These music entertainment systems are more useful for small rooms. You can also use a 2.1 channel home theatre for a big room. With the rising popularity of video streaming apps like Netflix across the country. People are choosing these compact f&d 2.1 home theatres because of the lower price range. Also, the F&D is now giving huge discount.
You do not need to attend a theater for the wonderful sound experience, if you have a home theater at your home. But before you go and buy one, you need some assistant. To assist you in making a good choice, we've curated a listing of India's best f&d home theater 2.1 music systems in 2021.
If you are searching for the best f&d 2.1 multimedia speakers then I assure you that your search will end here. We already shortlisted the best f and d, 2.1 speakers, for you. Here we go-
Amazon Echo Smart Speaker under 2000
F&D Company is one of the largest Indian company that makes electronics such as TV, Sound-bar, home theatre, Speaker, etc. Below is the list of the Top F&D 2.1 satellite home theatre. You can also get discount on F&D TV and Soundbars under 10000.
Top 5 List:
1. f&d f380x 2.1 Home Theatre
2. F&D F203G 11W Home Theatre  2.1 
3. F&D A140X Home Theatre 2.1
4. F&D Home Theatre 2.1 F550X 56W
5. F&D A110 35W 2.1
1. f&d f380x 2.1 Home Theatre
This 2.1 multimedia Bluetooth speaker system is from F&D is an excellent choice for medium-sized rooms. The look of the speakers is very decent. The subwoofer comes with a light at bottom of it. It looks very beautiful at night. It looks very modern and stylish. Subwoofer also comes with a circle LED display which makes it more attractive. It is a very durable speaker so you can go for it.
Using its strong 54W power output, it may burst sound throughout the entire room, while Dolby sound makes certain the sound comes out crisp and clear. You can also mount its 2 channel speakers in your room this will create a surround effect in the room. The surround audio will always remain more sensible and pleasing to your ears.
It weighs around 9.6 kg which is quite heavy. You can also use this speaker as a computer speaker. Satellite speakers can also give an output of 13watt which enough for a small room.
It also comes with a remote control which helps you to control it very easily. It increases the ease of use of the speaker.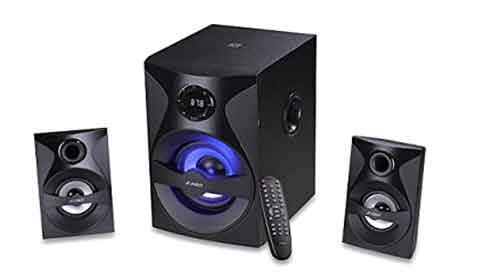 Pros
Crisp and clear sound quality.
Lots of input options.
Long and color-coded cables.
Excellent design with the good build quality.
Ideal for medium-sized rooms.
Cons
Sometimes Bluetooth is unreliable.
No other issues found.
2. F&D F203G 11W 2.1 Home Speaker system
Another best f&d 2.1 multimedia speakers. As you can see its design in the above picture. It is best for putting it on the table. As it has designed to place on tables or floors. The body of this speaker is very strong and durable. It also has a bass hole on its front side.
It also comes with a bass adjusting knob which is a very good feature. You can easily adjust the bass according to your needs.
Apart from that, the bass quality is very amazing. The sound experience is very good in a room. The satellite speakers look a bit smaller in comparison to the subwoofer. The sound is very much clear and also very well balanced. So if you are looking for the best f&d 2.1 multimedia speaker under 1500 then this is the best choice for you.
It is also very lightweight as it only weighs around 2 kg which makes it more portable and easy to install.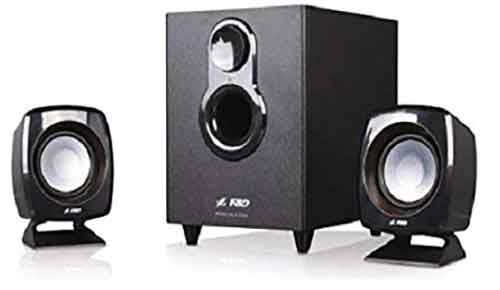 This F&D Home Theatre Price comes under 1500/-
Pros
Very Reasonable pricing.
Comes with a bass controller.
High-quality bass.
sturdy and durable body.
Attractive design.
Cons
Doesn't have a remote control.
Connecting wires are not of good quality.
Satellite speakers are very small.
3. F&D A140X 2.1 Satellite Speakers
A very attractive home theater from f&d, as you can see in the above image. It has a LED light on the front which makes it more awesome. Its 2.1 channel speaker looks very premium and durable. It is the best speaker for a modern house. It also has a bass hole on the front side of the speaker.
The sound and bass quality is awesome. It can easily be connected to your phone via Bluetooth. We didn't feel any trouble using Bluetooth. Also comes with remote control by which we can easily control it.
The only drawback I feel is that there is no display in the speaker. In this price range, we must have a LED display. It is also lightweight. It only weighs around 3 kg which makes it easy to install. So if you are looking for a premium multimedia speaker then this is the best choice for you.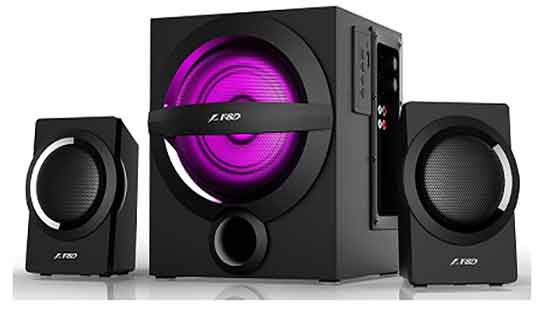 This Home Theatre from F&D Price comes under 3000 rupees.
Pros
Multiple connectivity options.
Amazing sound and bass quality.
Great look.
Comes with remote control.
Lightweight.
Cons
Somewhere lacking in sound.
Absence of display.
4. F&D Home Theatre 2.1 F550X 56W
A great-looking premium multimedia speaker from f&d. If you are a ninja lover then this is the best 2.1 speaker for you. As you can see the unique design of the speaker in the above image. The LED lights give it an edge over the other players. These LED lights can also change the color which makes it more unique.
This speaker is NFC supported which makes it more different from another speaker. If your phone supports NFC then you can connect with NFC mode. As you can see in the image it also comes with remote control. It also comes with Bluetooth. So we can say that the F&D F550X 2.1 Home Theatre has multiple connectivity issues.
It is a bit heavy in comparison to the above models. It weighs around 4.5 kg which is quite heavy for some people. But it is made up of superior quality materials that's why it is a bit heavy.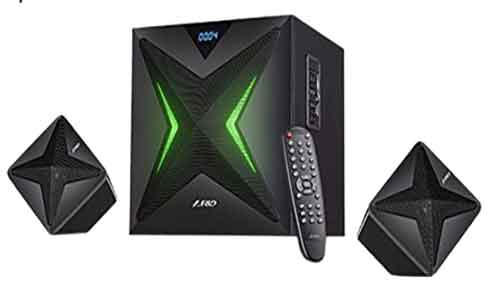 Stylish LED equiped F&D 2.1 home theatre price- 3000/-
Pros
Excellent looks.
Very good bass.
Bluetooth connectivity is very good.
Multiple connectivity options.
High quality LED display.
Cons
Can't control bass from the remote.

No preset equalizer is there.
Last but not least. As you can see in the above image is the F&D A110 2.1 Multimedia speaker system. This speaker doesn't have a display nor light on the front side. Apart from that the design of the speakers is good. The front grill is made up of metal which increases the durability of the home theater.
The sound is enough for a 10X10 room but the bass is not superb in quality. If you don't love deep bass then you can give it a try. It doesn't with a remote control which is not good for easy operation.
It is a very lightweight home theater. It weighs around 2.7 kg only. It makes it easily portable and easy to install.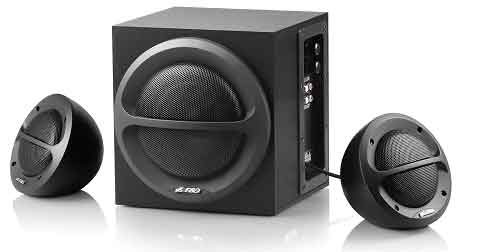 2.1 Satellite speaker from F&D comes under 2000 rupees. 
Pros
Durable body.
Good sound.
Reasonable price.
Cons
No remote control.
Limited connectivity options.
No led display.
No lights.
Conclusion: As a alternative of F&D products, you go for Zebronics Home Theatre to get more options. 
So, these were all the 5 best f and d 2.1 speakers list for you. Now you can choose the best one for yourself easily. If u still face any doubt feel free to ask in the comments. If u have any other recommendation mention in comments. Share this article with your friends so they can also choose the best multimedia speakers for them.