Not well known but good in terms of quality earphones brand we can find the Boult Audio ProBass Curve. It's one of the Best Neckbands under 1500INR that I got in terms of its quality and design. For this here we are on the Boult Audio ProBass Curve Review.
Boult is one of the little-known brands in the Indian market that offers quality-level products at affordable rates. Slowly, the popularity and brand value of these accessories brands are getting day today.
From my personal review, I got this Boult Audio ProBass Curve neckband as one of the best neck bands as per the price and quality. Yes, here we get the pretty design and have the better bass that we need on good neckbands.
Also Read: Top 5 Zebronics Bluetooth Headset.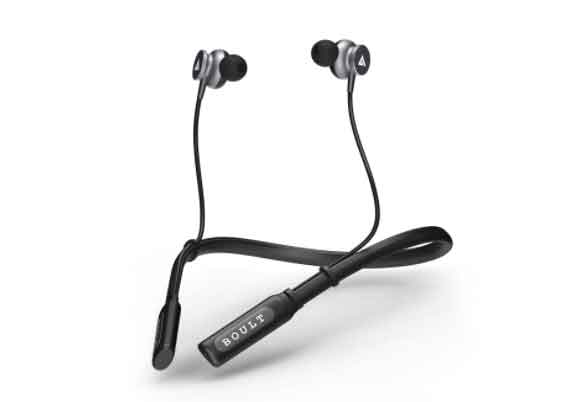 Boult Audio ProBass Curve Review
We have got many people who used to get confused in boAt and Boult brands. So, before making the short and sweet review I suggest you not get confused here with boAt. Here we are with the budget-friendly Boult Audio PorBass Curve Review.
Boult Audio ProBass Curve Design & Outlook
Although the physical package of the Boult Audio Probass Curve earphone is not as impressive and better as you think. Also, it lacks the proper design so we can find a better finish on it. The build quality of this earphone is higher than average and has a flexible nature.
When we come towards the earbuds, we can find the Oval-Shaped nature having the Nozzle Angled with the 60-degree tunnels. For this, we can find the features of Noise isolation on it.
Also, we can feel more comfortable in use with the Durable Flexi nature. Yes, we can get these earphones with a lightweight nature and have the micro-woofers for better sound management. In terms of bass, it's great. We can find the deep, higher bass.
Personally, I agree with the price of the Boult Audio ProBass Curve Design. Its premium type design and comfortable earbuds make you easy to satisfy with the price.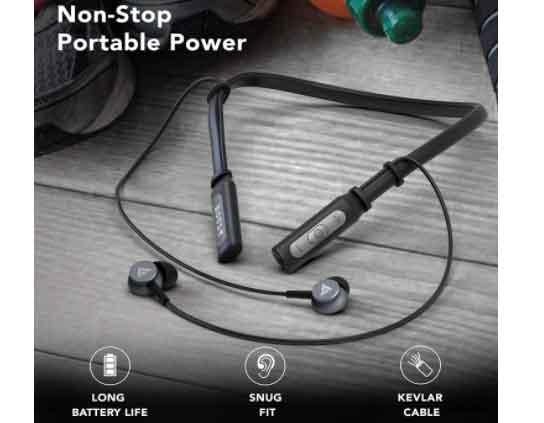 The Latest Bluetooth Version 5.0
For making the latency-free connection for better sound output, we can find this neckband with the latest version of V5.0 Bluetooth connectivity. It's great to see the latest version of Bluetooth as a connection on wireless nature. For this, we are able to create a strong wireless network connection over the paired devices.
Coming to more on Bluetooth and connection, we can find better and powerful connectivity to give us latency-free operation while making connections. Getting a powerful and stable connection is possible with a range of 9-10 meters for you.
Sound Performance and Battery life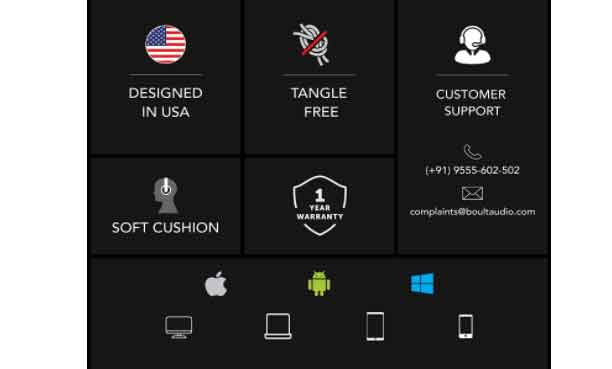 When we check out the real-time performance, then we have found the Boult Audio ProBass neckband is perfect for its operation. We can find comfortable earbuds with lightweight nature. In terms of its portability, we can't find such disappointing points.
In terms of sound quality, we can find the stable and clear sound having the punchy bass. The sound output coming from this neckband definitely fulfills your all need as per the price. Similarly, we can find the Micro-woofer Drivers on this neckband that delivers the crisp deep bass and clear, stable midst. Overall, the sound output of this neckband is perfect and there is no doubt in saying it is one of the best earphones under 1500INR.
Coming to the battery capacity, the Boult Audio ProBass earphone gives you 12-15 hours long playback. Yes, with the single charge of 1-1.5 hours, you can get the non-stop playback from this neckband. Due to its powerhouse technology you can get long hours on standby too, it's 1-2 days.
The IPX5 Water Resistant Nature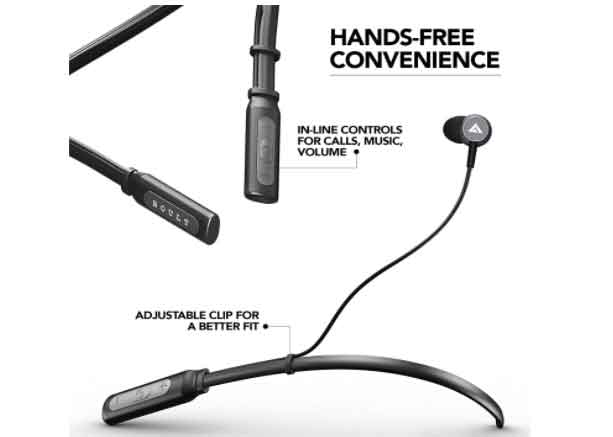 To give hands-on you to any weather condition, the Boult has used the IPX5 water-resistant technology. Using this technology, the users like you and me get the water and sweatproof technology. Yes, water and sweat-resistant technology make you want to go over it.
It is clearly mentioned, with its Inner coating makes it possible to save your neckband from water for 30 minutes in 1 meter deep. Here I got one of the best neckbands below 1500 INR for the athletes, workers, and outsiders. You can also wash its earbuds and base.
Pros
Looks very good and elegant (as per the reviewer)
Best Earphone under 1500
Longer Playback with powerful Battery
Lightweight, comfortable, and compatibility
Powerful Bass
Comes with the latest Bluetooth V5 for a stable connection
Water-resistant to IPX5
Crisp and clear Mids (as per reviewer)
Cons
Not flagship-level build and impressive as per the price
Found connection issue by the reviewers
What's the Decision
After getting the Boult Audio Pro Bass CurvePro, I got it as one of the perfect earphones. Here I found the better and admirable call quality with zero latency. As further I got the high and crisp bass that I can't expect on other products.
Moving to its battery part, the 12 hours longer backup makes me happy and attracts me towards it. Getting this handy, comfortable, and portable earphone is okay for you.
Finally, if you are in search of a mid-level earphone with better and premium competitors, then I think there is no more other than Boult Audio ProBass Curve.
Product link– Buy Now/Check Price.