No matter wherever we go, we need music. These days technology is getting so advanced that we have floating Bluetooth speakers to use in a pool as well. So, if you are also a pool lover and want to get your Best Floating Bluetooth Speakers then you are just in the right place.
Waterproof speakers are very adaptable and durable from our regular speakers. You can freely enjoy your pool party when you have these kinds of speakers. Also, these special speakers are capable of floating in the water. Isn't that cool?
So then let's check out the Best Floating Bluetooth Speakers for pool or rain parties.
Best Soundbars under 1000 rupees
5 Best Bluetooth Headphones under 200
Best Floating Bluetooth Speaker for Pool
These Floating Bluetooth Speakers are specially equipped with the IPX7 feature. IPX7 is basically just a rating that ensures how water-resistant your device is.
With this IPX7 tech, you will be able to submerge your speaker device in below 1 meter for 30 min max. It won't harm your device. So, basically, the point is you can easily make your device float in the water even with a small balloon.
Sky Enterprises Floating Bluetooth Speakers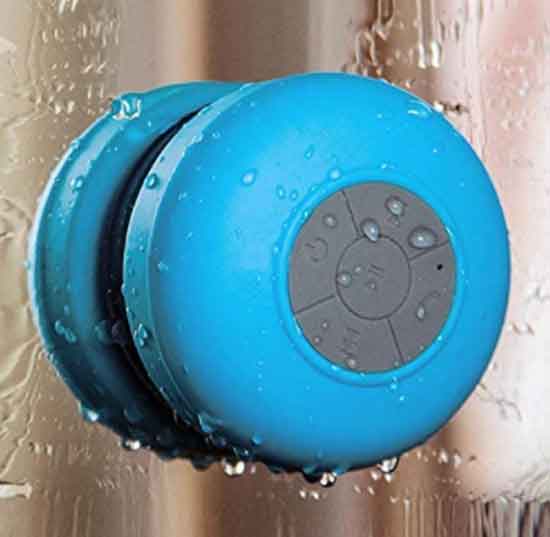 This is one light weighted speaker. If you are working out in a pool or having a small get to gather you can use this speaker. This is one budget-friendly waterproof speaker you can get on Amazon.
Features
IPX7 rated speaker best for pool party and rain party or any outside too, as this floating Bluetooth speaker is made of high-quality material.
This speaker has a Mic, where you can easily talk with someone while showering or in the pool.
This is a Bluetooth and waterproof speaker so you can connect it with your phone and can play the song from a distance.
The speaker has an in-built function where you can pause/play, change the volume and song. You will also find a power off/on button and call option. You can get this waterproof speaker only at 399 Rs.
BACKET 10 W Portable Noise Cancellation Wireless Bluetooth Speaker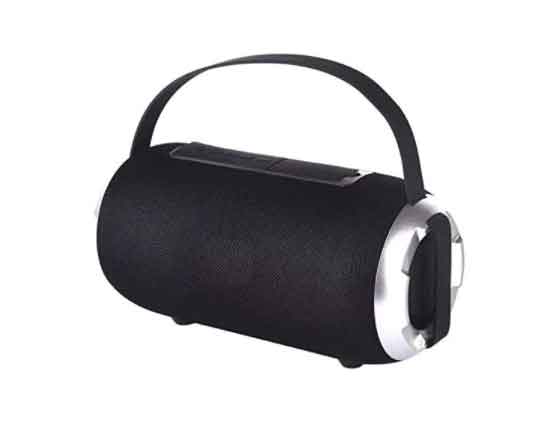 This is one innovative design waterproof speaker on this list. It has a handle which helps to pick up the speaker very easily. You can use this speaker while you are showering or having a pool party.
Features
It has an IPX7 waterproof feature which helps the speaker to get rid of water problems. Strong build and durable material.
This Floating waterproof speaker has a playback time of 8 hours.
You can connect this speaker via Bluetooth, SD Card, and USB/AUX. This is also one affordable product which you can buy as a waterproof speaker. It comes in only one color and looks very amazing.
iBall Musi Twins Best Floating Bluetooth Speakers for pool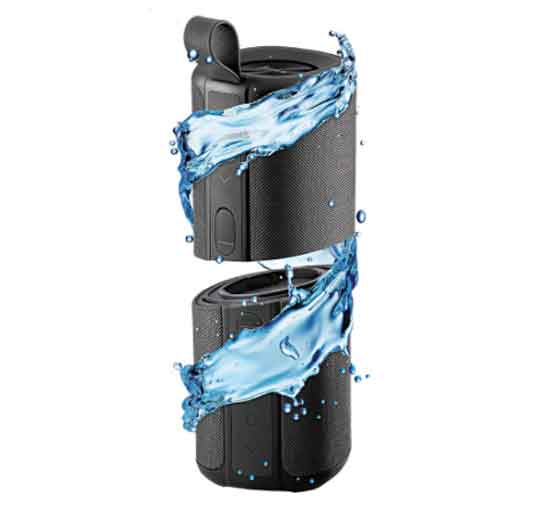 This is one of the coolest speakers you can get on Amazon. You can break this speaker into 2 parts and can divide the sound into two different sections. It comes in three color options Black, Green, and Red.
Features
You can listen to music underwater. Yes, this speaker also can be taken as deep as 1 meter and you can keep it there for half an hour.
You can carry this speaker anywhere because it is so lightweight and tiny so that you can carry it here and there.
Amazing sound quality. Pretty deep bass for a Bluetooth portable speaker.
It has a feature of IPX7 waterproof where you can put the speaker in water up to 1-meter depth.
This speaker has a 6-hour charge that will help you to give 12 hours of playback time.
It also has a mic feature that helps to talk through your speaker.
If you love creative and innovative waterproof speakers then this speaker is for you. This is a bit pricey but very useful.
INSMY Portable Bluetooth Speakers for rain and shower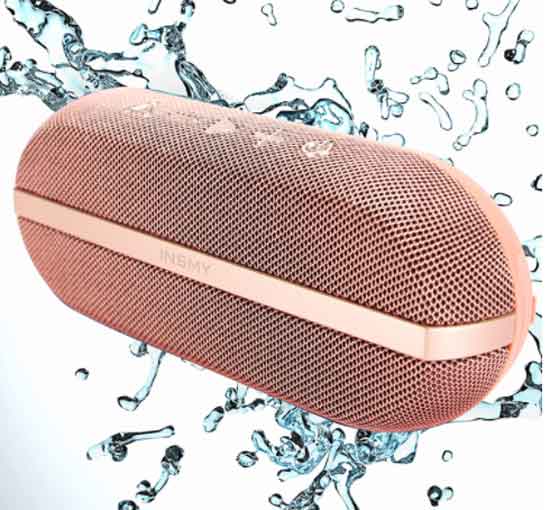 The color of this speaker is very amazing, attractive, and unique. This speaker has a 20 Watt driver and is 399 grams which are so lightweight that you can carry this anywhere.
Features
It has an IPX7 waterproof feature which helps the speaker to float in water. If you are buying a speaker for a pool party or pool workout or showering this is the best speaker for you.
Here you can connect two speakers at the same time for loud music and enjoyment.
As the price is a bit high battery life is also amazing you will get 24 hours of playback time once fully charges and has a Bluetooth of 5.0.
You will also find in-built multiple functions in a speaker like a volume up and down, changing song, power off and on.
Skywin Hot Tub Speakers and Speakerphone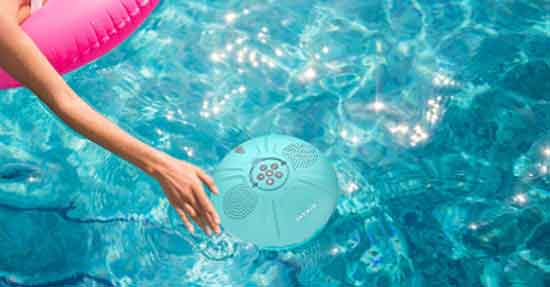 This is one of the best design speakers on this list. It is in the shape of a UFO and from the top, it looks like a remote control. But it basically a floating sheep giving you the best experience of the best floating speakers for the pool.
Features
This speaker will automatically float if you put this in the pool. The top will be visible where you can change volume and song at the same time.
At the bottom, it has a disco light which you can see underwater and looks very amazing.
The sound of this speaker is very amazing and you can hear it from a far distance.
It has a power of 5 Watt and has a weight of 7 grams which is very lightweight.
It comes in one color options blue and looks very amazing when it floats. You can surely use this speaker for pool parties.
JBL Charge 3 by Harman Portable Bluetooth Speaker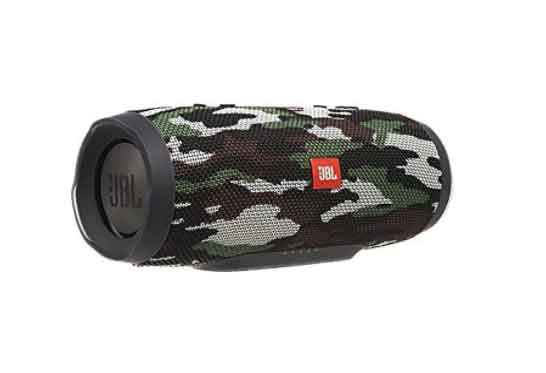 This speaker comes in military design. There are many color options as well in this speaker. It has an IPX7 feature where you can easily show off by throwing your speaker in the pool and it won't face any problem.
Features
About the other best feature it has a 6000 mAh battery and even acts as a portable by charging your smartphone.
It also has an in-built function to perform, it has a volume button, power button, and song change button.
There is a LED indicator that helps us to see the charge of the speaker.
It has all advanced features like Siri, voice assistance, or Google assistance, and many more.
You can also connect other JBL connect plus speakers and amplify your music.
Very portable as Its weight is 800 grams and you can carry this anywhere. This is a bit pricey but you will get all kinds of features here.
Conclusion:
Many people love partying in the poolside and it is very difficult to select which speaker is best for the pool and is waterproof so that it doesn't get damaged.
So we have made a list of the best Floating Bluetooth speaker for the pool. Of course, all these speakers can survive being submerged but not for so long and deep it will cause damage in some minor functions.
In this article, you will get full details about each product which will help you to select a better one and you can buy the best floating Bluetooth speaker for the pool.
What are you thinking? Buy the best floating Bluetooth speaker and Enjoy your Pool Party!