Did you hear about the new Zebronics Zeb-smart bot speaker? It is launched recently with very pocket-friendly pricing. If you want to know more about Zeb smart bot then you are at the right place.
As we know Zebronics is a well-known brand now. There is a wide range of products present in the market from Zebronics. With the launch of the Zebronics Zeb smart bot speaker, many people are willing to buy it. This speaker will definitely get huge success in the market.
This speaker comes with a 360 degree IR blaster by which you can also control non-smart devices. This feature is very unique and makes Zeb smart bot different from other devices in the market.
We can also be called a budget-friendly voice assistant. So now without spending much time we will jump to the details of the Zebronics Zeb smart bot speaker.
More from Zebronics:
8 Zebronics 2.1 Bluetooth Speakers
7 JBL Neckband Bluetooth Earphones under 2000
Zebronics Zeb Smart Bot Review: First Ever Smart Speaker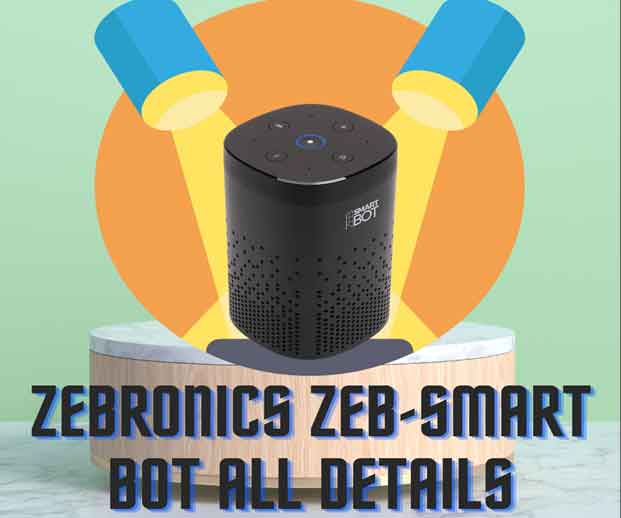 Design and build
So firstly we will talk about its design and build quality. As you can clearly see the design of the Zeb smart bot in the above image. It looks very premium and attractive.
Comes with a built-in Alexa and a five-watt speaker. It has holes on all four sides for a better and clear sound quality. It also comes with a 360 degree IR blaster.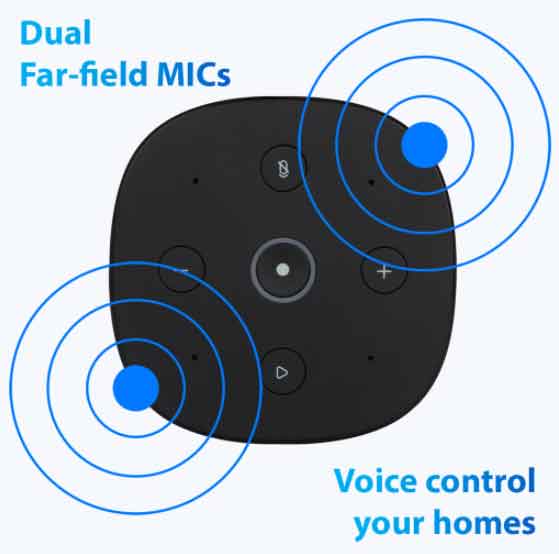 On the top of the speaker, we can see the media control buttons and a power on/off button. It also has two microphones on the top side for getting better input.
Build quality is very good feels very durable and sturdy. At last, we can say the build quality is very awesome and the design also looks very attractive. It has various things that make it easy to operate.
This is a very lightweight speaker. It only weighs around 400 grams which makes it easily portable.
Sound quality
Now we will talk about its sound quality. Firstly I want to tell you that it comes with a 5-watt speaker. So the sound volume is not that much loud. But it is enough for a small room.
There is a very minimal bass present in the speaker. But the sound quality is very good. The sound is crystal clear you can listen to anything in the speaker. Even you can also listen to speeches in the speaker without any problem.
But I want to tell you that the sound quality is not that much good on Bluetooth mode in comparison to wifi mode. I recommend you to use this speaker on wifi mode only.
There is a very high latency while using Bluetooth mode. There is a delay of 3 to 4 seconds in the sound while using Bluetooth mode. I hope you understand the issue.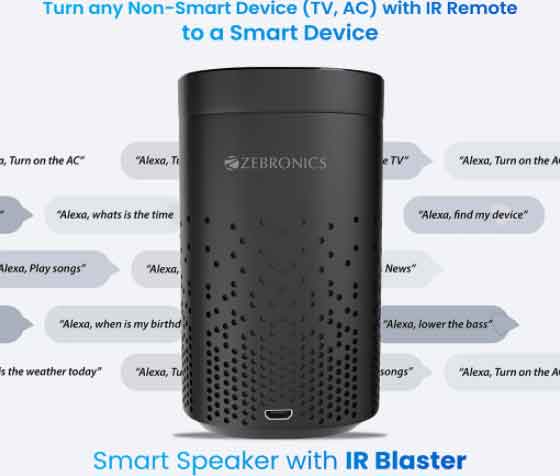 Zebronics Zeb Smart Bot Features
So now I will tell you about the major features of the Zebronics Zeb smart bot.
1 . The most trending feature of this speaker is the IR blaster. The presence of an IR blaster makes this speaker different from other speakers present in the market.
With an IR blaster, you can control your non-smart remote-controlled devices with Alexa. It comes with a 360 degree IR blaster means you can control your devices irrespective of the position of the speaker.
This means you can control your television, air conditioner, or any other remote-controlled device by voice command or by using your mobile phone.
2 . This Zebronics Zeb smart bot comes with a built-in Alexa. In this price range, this is a very great feature. With the help of Alexa, you can also control your smart devices with voice commands.
3 . This speaker also comes with an offline mode means you can also use it even when there is no internet present. It will work on Bluetooth mode when the wifi is not present.
4 . It comes with 2.4 GHz WiFi and Bluetooth version 4.2. No doubt WiFi is very good but when we look at Bluetooth it feels a bit old. There are also some issues with the Bluetooth of the speaker.
5 . This speaker doesn't come with a battery. It will only work when it is plug-in. There is a micro USB port present on the front side of the speaker. There is no adapter present in the box.
So you have to buy a separate charger or adapter to operate this speaker. In the box, you will only get a micro USB cable which is not of good quality.
6 . There are dual far-field microphones present at the top for capturing voice more efficiently. It helps in increasing the voice capturing range of the device.
7 . You can also control the speaker and other devices with the help of the ZEB home app. This app is specially designed to control and register this speaker. The app is available to download on the google play store and Apple app store.
Positives and Negatives
Pros
Comes with a built-in Alexa
Value for money
Very affordable pricing
Comes with a 360 degree IR blaster
Dual far-field microphones
5 watts speaker
Has 2.4 GHz Wifi and 4.2 version Bluetooth
Very affordable pricing
Presence of media control buttons on the top
Good sound quality
Very durable build quality
Also works while offline
Can be connected with a mobile phone
Can control non-smart devices
Cons
No adapter present in the box
Only work while plug-in
Bluetooth is not good
Bass quality can be better
Final verdict
So now we have discussed all major details and features of the Zeb smart bot. Now the question is should you buy this speaker or not?
The answer is yes because in this price segment it is very difficult to get an Alexa device. But in Zebronics Zeb smart bot you are getting a 360 degree IR blaster powered by Alexa.
So if you are looking for an Alexa device then this is the best speaker for you. You can buy it without any doubt.
Frequently asked Questions
Q1. How to connect the speaker with a mobile phone?
For connecting Zeb smart bot to your phone follow the steps below
Step1 – Search for ZEB-HOME APP on iOS/Android store, Install and sign in/sign up to your ZEB account.
Step2 – Once installed, Open ZEB-HOME App >> Add Device >> Smart Speaker >> Follow the instruction shown in the APP.
(Note: Please make sure that the speaker is powered on)
Step3 – Once the above configuration is done, The App would request you to sign in to your Amazon account.
Step4 – Open your Alexa APP, enable the "Zebronics home" skill to access more features.
Now your Zeb smart bot is connected with your mobile phone and now, you can command & control Alexa.
Q2. How to Configure IR Blaster:
Step1 – On the device is configured, click on ZEB-SMART BOT and enter the menu option.
Step2 – Select the IR device option and click on Add device.
Step3 – Now select the device type and brand details to proceed further with the configuration.
Step4 – Follow the instructions on the app to complete the setup.
Q3. How to use voice command?
After completing the set up you only have to say " hey Alexa " then the voice command will be automatically activated.
I hope you understand the process if you still have any problems or want to ask any other questions. Then you can come in comments I am always here for your help.
Thanks for reading. Please share and Support SpeakersTrend.